Destiny Raid Crota's End Completed Already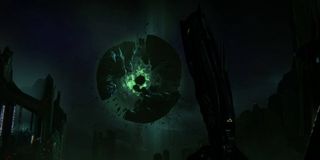 Destiny's second raid launched early this morning with expansion pack The Dark Below. Mere hours later, it was beaten by a committed group of players.
Bungie confirmed this afternoon that Invigorate Gaming was the first team in the world to clear Crota's End:
This is the second world first that Invigorate Gaming earned in Destiny. The team also beat hard mode for previous raid Vault of Glass before everyone else. They missed out on the Vault normal mode first, though; PrimeGuard won the gold medal on that one.
In addition to bragging rights, the Guardians of Invigorate also earned the following loot from defeating Crota:
Light of the Abyss is a Fusion Rifle well suited to fighting the Hive in The Dark Below's missions. Its damage is boosted when shooting Hive Majors or in the brief period of time after killing an enemy. Light in the Abyss also has heightened accuracy when fired from the hip.
Crota's End is a six-person Raid designed for players level 30 and up. The Fireteam must descend far below the Moon's surface to defeat Crota, a Hive god, and their minions.
This new raid is just one component of The Dark Below. The newly launched expansion also includes a co-op Strike, story missions, and three Crucible maps. PS4 and PS3 players also get some extra content to call their own.
Invigorate Gaming's clear of Crota's End doesn't seem to be on YouTube yet. However, you can watch them tackle the raid live throughout the day at their Twitch channel. If you want to join their clan, you can do so at their Bungie.net page.
Staff Writer at CinemaBlend.
Your Daily Blend of Entertainment News
Thank you for signing up to CinemaBlend. You will receive a verification email shortly.
There was a problem. Please refresh the page and try again.