How Minecraft Is Celebrating Stranger Things Season 2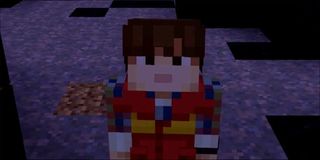 (Image credit: Microsoft)
One of the most popular shows on television (or streaming services, I should say) is Netflix's Stranger Things. The second season for the popular, retro-style show is underway and Mojang wanted to celebrate that milestone by doing something a little special in Minecraft, such as adding the skins for the characters from the show.
Over on the official Minecraft website there's a post about the characters from Stranger Things making an appearance in Minecraft. The skin pack features a number of the cast from the popular Netflix show.
The post explains that players will be able to run around in the game world as Hopper, Mike, or Eleven. Additionally players will be able to fight against the creature from the show, or role-play as the hazmat-suit-wearing scientists. There are more than a couple dozen skins in the pack, including some punks decked out in some crazy gear, plenty of characters wearing 80's-style clothing attire, and even a couple of alternate skins for some of the characters.
Over on the post Mojang warns that some of the skins might be spoilers for the second season of Stranger Things. However, you'll probably get spoiled anyway if you decide to pick up the skin pack for Minecraft.
To compliment the release of the skins there's also a brief minute long trailer showcasing all the skins in the game using recreated scenes from the first and second season. Mojang really took the collaboration very seriously. You can check out the trailer below.
The thing is filled with all sorts of nods to the 1980s, and using the theme from the actual TV show was brilliant. A lot of the people in the comment section also thought the trailer was about pitch perfect. It's put together really well, and even if you haven't watched the show of the same name you'll at least be inclined to Google it a bit to find out more.
Of course, some people were a bit disappointed that the only major content added to Minecraft these days are cosmetic items and skins. The last big update for Minecraft added some new design tools for players to create more complex objects, including adding some extra 3D elements to the voxels, so some objects have more protuberance when they're created.
However, some gamers feel as if Minecraft hasn't really moved forward gameplay and mechanics wise since being acquired by Microsoft back in the early fall of 2014 for $2.5 billion.
Of course, if you don't really care about all the other stuff surrounding Minecraft but you want to recreate the scenarios and locations from Netflix's Stranger Things while playing as the characters, you can do so right now. The skin pack is made available just in time for Halloween, so you can have a spooky night in while playing as the cast from the popular sci-fi thriller.
Staff Writer at CinemaBlend.