The Sims 4 Drops A Major DLC Bundle On Consoles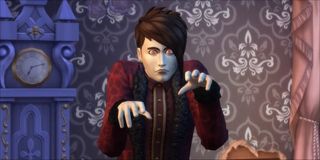 Electronic Arts announced that there's a brand new bundle that has just become available for Xbox One and PlayStation 4 owners who own The Sims 4. The new bundle contains four of the popular expansions that were previously released for the game, all in one pack that contains a variety of new customization, building, and personalization items. Check out the trailer below:
The trailer details what's contained within the bundle pack, including The Sims 4: City Living, The Sims 4: Vampires, and The Sims 4: Vintage Glamour Stuff.
The trailer starts by showcasing the City Living expansion, which features a number of new outfits you can deck your Sims out in, which are perfect for cosplay events. We see a group of characters huddling together for a group selfie pose, along with a few new locations for you and your Sims to explore. The first segment featuring the City Living expansion rounds out with a romantic shot on the rooftop with two characters smacking lips during the middle of the night.
The next segment of the trailer focuses on the Vampires stuff. This pack features a selection of Gothic-themed accouterments, garments, and wardrobe offerings to help deck your Sim out to look like they stepped right out of Twitlight... or Interview with a Vampire.
The characters in The Sims 4 gain access to some crazy new hairdos, some new attire, and some new poses. We get to see some grim decorations and spooky wallpaper on display while the characters are showcased.
The minute long trailer rounds out with a look at the Glamorous Life expansion pack, which features a lot of high-quality furniture, bedroom sets, living room setups, and a variety of clothing and other customization features to make your Sim look super high fabulous.
Each of the packs can be bought separately or you can pick them up within the bundle. The bundle for the Xbox One and PS4 is available for $49.99. However, as outlined on the web portal... there's a catch: You still have to pay for the original Sims 4 outing if you want to use the bundle pack. The pack does not come with the base game.
So, if you already have The Sims 4 but you wanted to upgrade the game with some all new expansion packs and experience the highlights of the additional content, you can do so right now.
Originally, The Sims 4 came out way back in 2014 for PC. During that time EA and Maxis rolled out a ton of new expansion packs and upgrades for the game, and then it took three years for the game to finally arrive on the Xbox One and the PlayStation 4 this month.
Your Daily Blend of Entertainment News
Staff Writer at CinemaBlend.