Skyrim And Fallout 4 Receive Xbox One X Updates, Here's What They Do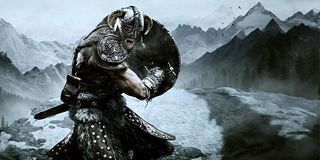 Bethesda's Skyrim and Fallout 4 are the latest games to receive updates for the Xbox One X, making both titles look better than they ever have on a home console.
While the Xbox One X's extra horsepower will give a subtle boost to just about any game you want to play on it, developers need to update their titles to take full advantage of the latest hardware. Bethesda has announced it plans to do exactly that for just about every game they have published on the platform, starting this week with Skyrim and Fallout 4.
Since Skyrim is itself already an updated version of a last-generation game, Gameinformer points out that the changes you'll see from the Xbox One X update are minimal. In short, you can expect a new 4K resolution upgrade, and that's about it. Not mindblowing but, again, this is a game that's six years old and has already been remastered about as far as possible for modern consoles. It's also been a super busy time for this particular game, as it also recently launched on the Nintendo Switch and for VR headsets.
Fallout 4 is a more recent game, though, so its changes are a bit more substantial. That game's update includes better draw distance for things like trees, grass, in-game objects, and NPCs, as well as enhanced lighting we call god rays. So, again, we expect the game to run and look better than ever before, but don't go in expecting the 4K boost and whatnot to turn Fallout 4 into a totally different experience.
As noted above, Bethesda plans to go all-in with updating its games for the Xbox One X, something we're seeing out of a lot of developers. If you can put in some extra time with a game to make it look and run better on the latest machine, why not, right?
Other games Bethesda plans to update moving forward are the recently released Wolfenstein II and The Evil Within 2. Dishonored 2 and its recent bite-sized follow-up, Death of the Outsider, are also planned for Xbox One X updates, as is the Bethesda MMO that's been gaining in popularity over the past year, The Elder Scrolls Online.
With DOOM VFR launching this week and all of these updates planned for the coming months, we figure Bethesda's schedule might slow down just a little bit in early 2018. After the year they've had, they've certainly earned a breather. After that, we're looking forward to seeing what they have planned next.
As for updating games for Microsoft's latest consoles, what games would you like to see get a boost on the One X? From AAA to indie darlings, we imagine there are a lot of options to consider. Feel free to drop your wish list into the comments below.
Your Daily Blend of Entertainment News
Staff Writer for CinemaBlend.