Street Fighter 5 Characters Are Coming To Monster Hunter: World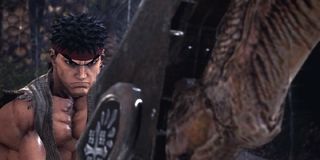 Monster Hunter: World hasn't even been out a full weekend and already Capcom has revealed a pair of cameo characters that will soon appear in the game. Get ready to punch giant lizards in the face as either Ryu or Sakura from Street Fighter V.
These types of crossovers from Capcom don't typically surprise me, but I certainly wasn't expecting to see a couple of world warriors pop up in the world of Monster Hunter. But based on the reveal trailer and an announcement from Capcom themselves, that's exactly what's about to happen.
For those who are confused about how a cameo like this will work, the duo will be released as full sets of armor, as weird as that sounds. In other words, you can't just mix and match their outfits with other armor sets. If you want to look like Ryu or Sakura while beating monsters to death with a massive sword, it's all or nothing. These armor sets work for male or female characters, so no worries there. And they also change your character's voice to that of Ryu or Sakura, so that's pretty cool.
The promotion will begin as a PS4 exclusive for folks who also have a Street Fighter V save file on their console. You'll take on the quest "Down the dark and muddy path," in order to claim "SFV Tickets" that, when combined with other materials, will let you craft the Ryu armor set. The announcement says that everyone else "won't have to wait much longer" for the quest to become available in their games, too, though exact timing has not been revealed.
After that, even more event quests will pop up in the game, giving players another chance to craft the Ryu gear and their first shot at crafting Sakura.
While the armor sets will be free, along with some other goodies, a collection of special in-game items will be available for those willing to pay. You can get a Street Fighter-themed guild card, a couple of new Achievements and a couple of poses gratis. If you want some Street Fighter stickers, those will cost $1.99. If you want to gesture with the Hadoken or Shoryuken, they'll be $3.99 apiece. That seems pretty steep but, again, all of the other stuff is free and this is a big licensed property we're talking about.
It was also noted that some Monster Hunter costumes are coming to Street Fighter V, and let's not forget that these characters have already gotten familiar with each other in Marvel vs. Capcom Infinite. In other words, maybe the arrival of Ryu and Sakura in Monster Hunter: World shouldn't have been all that surprising.
Be sure to share your thoughts in the comments below, as well as what other Capcom characters you'd like to see eventually make a cameo in the latest Monster Hunter game.
Staff Writer for CinemaBlend.
Your Daily Blend of Entertainment News
Thank you for signing up to CinemaBlend. You will receive a verification email shortly.
There was a problem. Please refresh the page and try again.