Plants Vs. Zombies: Garden Warfare 3 Is Apparently On The Way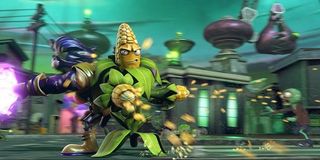 It looks like a third installment in the Plants vs. Zombies: Garden Warfare series is on the way, but this news isn't coming to us from EA. Instead, we're getting it from a comic book description from Amazon, of all places.
Heading into the weekend, an Amazon listing for Plants vs. Zombies: Garden Warfare Volume 2 went live on Amazon (via Comicbook.com), promoting a new comic book that is set to release Sept. 25 of this year. The description starts out unassuming enough, explaining that "Garden Warfare returns to Neighborville." The next line, though, explains that writer Paul Tobin is heading up the book in order to bridge the story gap between Garden Warfare 2 and Garden Warfare 3.
Up to this point, EA has not even hinted at the existence of a third Garden Warfare game, so you can see why some folks saw the listing and said, "hey, waitaminute!" But since EA has not announced any such game at this point, we're going to go ahead and treat this as a rumor for the time being. It seems like one of those rumors that will almost certainly turn out to be true but, again, we don't want to claim a game is coming until a developer or publisher pulls back the curtain.
What's interesting here is the timing. Since the comic is set to come out in late September and serve as a bridge between two games, we imagine that means that, if GW3 is on the way, it won't arrive until sometime this fall. This type of medium-crossing connective tissue typically arrives right before the next installment, so we wouldn't be surprised to see a late September or October launch window pop up for the game...Assuming the game exists. Which we aren't claiming it does right now. Though it probably does. But not officially. Hashtag rumor.
In other words, that timing seems just about perfect for what could potentially be scheduled as an E3 2018 reveal. Again, this is all based on speculation, but a June announcement for a fall launch seems just about right in our book. Of course, now that the cat is potentially out of the bag, we wouldn't be surprised if a reveal gets moved up to sometime in the near future.
As for the game series itself, we're a little surprised to hear that Garden Warfare might make a return. To be clear, that's not a knock on the games themselves. They are, by most accounts, fantastic third-person shooters with some deep customization options, unique mechanics, and a solid/totally bonkers class system. We just haven't heard many folks clamoring for a third iteration and, as far as we've heard, the previous games in the series haven't exactly performed on an astronomical scale. Then again, Garden Warfare also seems like a perfect candidate for loot boxes and games as service nonsense, which is definitely in EA's wheelhouse these days, so who knows?
Your Daily Blend of Entertainment News
Staff Writer for CinemaBlend.