Life Is Strange: Before The Storm's Bonus Episode Is A Pirate Adventure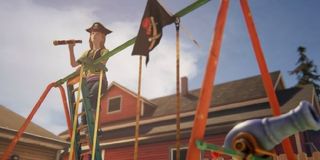 Life is Strange is ready to bid farewell to its adoring audience, with the series' original cast returning to place a final puzzle piece into the relationship of Chloe and Max. Arriving this week, Square Enix has now offered up a launch trailer for "Farewell," hinting at a pirate adventure that's ready to unfold.
The original Life is Strange is an episodic adventure game that let players make choices and bend time in order to navigate the tumultuous tale of a teen's coming-of-age story. It was a big hit with critics and consumers alike, proving that studios other than Telltale could absolutely nail the genre.
Life is Strange: Before the Storm received similar fanfare despite a few issues (we'll get to that in a moment), but even the prequel's original narrative left part of the tale untold. That's where "Farewell" comes in, also known as the game's "Bonus episode." As we see in the above trailer, "Farewell" will put the focus on Chloe and Max, complete with their original voice cast.
That's the issue I referenced above. Ashly Burch and Hannah Telle will be reprising their roles in "Farewell." Telle's Max was missing from Before the Storm because she wasn't a part of that story. As for Chloe, original voice actor Ashly Burch was replaced by Rhianna DeVries in the first three chapters of Before the Storm due to the now-resolved SAG-AFTRA strike. That was a sticking point for some fans, so having the original duo reunited for a "Farewell" tour should prove exciting for many fans.
We don't know much about farewell outside of the fact that it will fill in some of the gaps for Chloe and Max's story. It looks like they went on a pirate adventure as kids and even recorded bits and pieces of their adventure on a tape. Before their lives go separate directions, they decide to reprise their roles as swashbucklers and go on a treasure hunt. It looks like the kind of tale that will tug violently at the ole heartstrings.
If you already purchased the game's uber edition, the Farewell chapter can be downloaded right now. It will be ready to play tomorrow, March 6, as a standalone adventure. If you're willing to wait a bit, though, you can also grab the physical edition of Life is Strange: Before the Storm, this Friday for $39.99. That version will include the original three chapters, Farewell, an outfit pack, a soundtrack, artbook and even a "Mixtape mode" to play around with.
And now that the prequel is wrapped up, all we have left to do is play it and wait for the next chapter in Life is Strange. The original team at Dotnod Entertainment has been working on the follow-up for a couple of years now, so we hope to see something announced once everyone's had time to enjoy Farewell and have a good cry or three.
Your Daily Blend of Entertainment News
Staff Writer for CinemaBlend.