How To Get Street Fighter Sakura's Armor In Monster Hunter World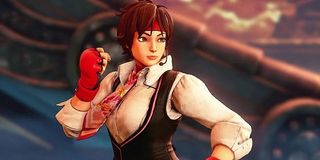 The second Street Fighter character is finally ready to hunt down some massive dragons, with Sakura stepping into Monster Hunter World early next month with her own armor set and animations.
While Ryu has been playable in Monster Hunter World for a few weeks now, Capcom promised he'd eventually be joined by Street Fighter fan fave, Sakura, at some point in the future. Well, now we know exactly when that point is. According to Gamespot, Sakura will be pummeling monsters aplenty starting May 3.
The three-part Sakura quest will go live on May 3 at 5 p.m. PT. You'll want to get to work pretty quickly, as her gear will only be available through May 10. Sure, you'll get additional chances in the future to earn your Sakura gear, but you might as well get it while the getting is good, right?
When the event goes live on May 3, you'll want to head up to the gathering hub and take on the Challenge Quest called "Empress in Full Bloom." Based on what little info Capcom has let slip at this point, we know that the event will see Sakura squaring off against a Pink Rathian in the standard Arena. To take on the quest, you'll need to be at least Hunter Rank 12.
If this plays out like the Ryu quest, you'll be battling the Pink Rathian as Sakura, even though you won't actually have the gear yourself yet. You'll likely be given a handful of weapons to pick from before getting dropped into the Arena. Hopefully, you'll have a full nine lives like Ryu, too, making the challenge a bit more manageable. Again, based on previous events, you'll likely earn a specific item, as well as Pink Rathian parts, upon completion of the quest. Once you save up enough components, you'll be able to build the Sakura armor for your own collection. If memory serves, the Ryu quest required the player to earn seven victories in the Arena to get enough resources for the set.
Again, this is a full armor set, so you can either look like Sakura completely or not at all. The armor also grants Sakura's voice and, as with Ryu and Horizon's Aloy before it, this gear can be worn by male or female players.
If you need to kill some time between now and Sakura's arrival, don't forget to jump into Monster Hunter World's first siege event, which runs all the way up to the day the Sakura event begins. That event has a room of 16 hunters tackling the Elder Dragon Kulve Taroth for some sweet, sweet loot.
This all comes after the recent conclusion of Monster Hunter's spring event, which brought back all previous special quests. In other words, even if you miss out on these current and upcoming quests, they'll almost certainly be around again within the next couple of months.
Your Daily Blend of Entertainment News
Staff Writer for CinemaBlend.