First Look At Overwatch's New Map, Petra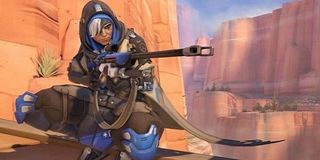 The team at Blizzard has revealed its next Overwatch map, Petra, and fans of desert temples are going to be quite pleased with this one. As always, the map actually ties into the game's lore, just another one of those nice little touches we love to see in the popular arena shooter.
The above video gives you a quick flythrough of the new Desthmatch map coming to Overwatch, Petra. The map's background info encourages players to take in "the majestic views," including deadly cliffs, treacherous caverns, oodles of twisting passageways and the like. Since this is an ancient temple that's just become part of an excavation and preservation project, of course, there is a rickety old bridge spanning part of the map. If the ground beneath the bridge gets too unstable, another deadly pit will reveal itself. So, yes, it sounds like Petra wants the players dead just about as badly as the players themselves want to see their enemies fall.
Oh, and there's a green jump pad on Petra that will launch you up to the map's higher points of interest. We're sure that will become a fun little battleground of its own, while Blizzard makes it clear that new strategies may reveal themselves if you lock down the location. Since this is such a tight map with a lot of close quarters, we figure that means snipers will be spending a lot of time up in those higher reaches.
As for a personal take, I'm really enjoying the map's lighting. Petra is just as bright and colorful as Overwatch has always been, but there are plenty of dark caverns here that should make for interesting firefights.
And for those of you who aren't as fond of spooky catacombs, there's a decent amount of space outside the temple offering more open arenas and plenty of sunshine.
As noted, an excavation of Petra is ongoing, so expect to see plenty of scientific equipment and tents peppered throughout the region. We wouldn't be surprised if something is eventually "unearthed" here, perhaps leading to a new hero or just a bit of extra lore for the game world.
The trailer ends with a look at action unfolding in Petra, complete with snipers taking up those high perches, opponents getting flung off of cliffs and others taking advantage of those tight corridors.
The whole thing concludes with a reminder that Blizzard will be celebrating Overwatch's anniversary from May 22 to June 11, so we figure the map is heading our way in the near future. Also, any Overwatch fans will likely want to keep their eyes peeled for additional announcements pertaining to celebratory fun.
For now, though, what do you think of the new map? Does if fill a gap in the current roster or is there a certain theme/type of map you'd like to see get added ASAP? Let us know in the comments below.
Your Daily Blend of Entertainment News
Staff Writer for CinemaBlend.
Your Daily Blend of Entertainment News
Thank you for signing up to CinemaBlend. You will receive a verification email shortly.
There was a problem. Please refresh the page and try again.