PS4 Fortnite Players Can't Play On Nintendo Switch, And Sony Isn't Helping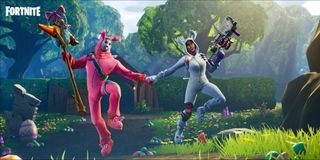 (Image credit: Epic Games)
More cross-play drama has emerged. It seems to be the gaming's version of a soap opera that just keeps giving. The funny part about it is that cross-play compatibility (or the lack thereof) among console gamers has been a drama-laced issue since the seventh generation of gaming when Microsoft was the one preventing the feature from being implemented into games, but, this time around, it's Sony who is preventing PS4 gamers from playing with Nintendo Switch and Xbox One gamers. The cross-play drama has now found its way into the Fortnite community, with players being unable to connect their PlatyStation 4 accounts to their Nintendo Switch.
BBC is reporting that Nintendo Switch owners discovered that when they attempted to log into the free-to-play version of Fortnite using the PS4 account, they couldn't due to a system message informing them that the account was unable to be used.
Now, some of you might be wondering exactly why someone would attempt to use their PlayStation 4 account for Fortnite on Nintendo Switch. Well, the reason for that is because many gamers hoped to carry over their progress from one platform to the next, including the clothing options they've unlocked, customization, levels, and other profile perks. So, all of that progress is rendered moot moving from the PlayStation 4 to the Nintendo Switch.
When PlayStation 4 users wanted to carry over their progress they were met with the system error about not being able to use their account for the Nintendo Switch version of Fortnite.
BBC reached out to Sony in order to get a clarification on the matter and Sony responded by stating that the company was still open to hearing from the PlayStation community, and that as a company it was interested in "enhancing" the gaming experience.
Sony also mentioned that with a large amount of PlayStation Network users playing Fortnite that there are a lot of people online, even though that doesn't really address the cross-platform playability issues that Xbox One and Nintendo Switch users have been suffering from when it comes to the restrictions of the PlayStation 4 accounts being locked out of accessing Fortnite on other gaming consoles.
Sony also reiterated that cross-play was available with PC, Mac, iOS and Android devices, but, obviously, PS4 cross-play with the Nintendo Switch and Xbox One is still off the table, and Sony still failed to address the issue regarding people not being able to use their PS4 account on the Switch.
Funnily enough, Epic Games also recently announced that Fortnite has surpassed more than 125 million active users. So, there are more people playing the free-to-play Battle Royale mode than ever before, and yet the cross-play console support is still a pretty big issue for some gamers.
On the upside, cross-play between the Xbox One and Nintendo Switch is still available, along with cross-play between PC. Hopefully the issue gets resolved and everyone will be able to cross-play at some point in time across both home consoles and PC.
Your Daily Blend of Entertainment News
Staff Writer at CinemaBlend.