Rare Is Celebrating Banjo-Kazooie's Birthday In Sea Of Thieves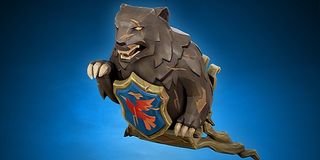 It has been 20 years since Banjo-Kazooie first leapt onto the gaming scene and, to celebrate, the folks at Rare are honoring their classic platforming duo with a friendly nod in their latest game, Sea of Thieves. If you're looking for a little extra pirate bling to make your ship look spiffy, then you'll want to drop by an in-game vendor with exactly 1998 gold in your pocket.
While Sea of Thieves had a somewhat choppy launch, Rare has been hard at work keeping the sails up with content updates, patches, regular events and the like. It's that kind of dedication to their games that's kept them in business for over two decades, so it's nice to see the team celebrating a piece of that history this summer.
The first Banjo-Kazooie game launched for the Nintendo 64 back in 1998. The fun-loving bear and bird served as Rare's version of the mascot platformers like Nintendo's Mario, Sony's Crash Bandicoot and Sega's Sonic. Rare has come quite a ways in the past 20 years, but that doesn't mean they've forgotten the good-ole days. To recognize Banjo-Kazooie's 20th birthday, folks can hop into Sea of Thieves and pick up a special "Bear & Bird" figurehead to put on their ship.
Rare already gave a nod to Banjo-Kazooie in the form of a cave painting within the game, but it's nice to see a little something extra dropped in for good measure. The figurehead boasts a battle-scarred bear fronted by a shield featuring a familiar-looking bird. It's definitely a bit more gritty than the traditional Banjo-Kazooie imagery, but it fits the Sea of Thieves tone perfectly.
Pretty much everybody should be able to pick up this decoration in-game, as it will only cost you 1998 gold, a clever little nod to the year the first game in the series launched. As noted in a recent announcement on the Rare blog, you just need to find a couple of treasure chests and you'll have the required funds in no time.
You'll want to make grabbing the figurehead a priority, as it will only be available through the month of July. Even if you don't plan on attaching it to your ship, it's something any Rare fan will likely want to have in their inventory for sentimental reasons.
With this Banjo-Kazooie love surfacing, we're curious if Rare will eventually add homages to any of their other properties in Sea of Thieves. Perhaps a GoldenEye golden musket? Maybe an island that's oddly reminiscent of a Donkey Kong Country map? Given how long Rare has been making games, there are a lot of options.
As for Sea of Thieves, it was revealed during E3 2018 that Rare has several big content updates on the horizon, so keep sailing those treacherous waters.
Staff Writer for CinemaBlend.
Your Daily Blend of Entertainment News
Thank you for signing up to CinemaBlend. You will receive a verification email shortly.
There was a problem. Please refresh the page and try again.