When Fortnite Will Shut Down The Playground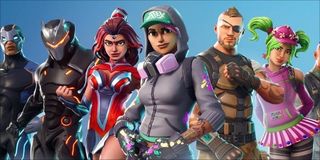 (Image credit: Epic Games)
Epic Games has been rolling in the cash and the popularity with Fortnite. The game is just an explosively huge title for people who love the Battle Royale genre, those who can't get enough of third-person shooters and people who enjoy exercising their creative juices by building things and shooting zombies. Epic recently added another mode to the game called the Playground LTM, and it was only going to be around for a limited amount of time for Fortnite players. Well, we now know exactly when it will be shutting down.
Over on the Fortnite sub-reddit, Epic informed the gaming audience that the Playground Limited Time Mode really is only going to be around for a limited amount of time after being put into play earlier this week. Starting next week, on Thursday, July 12th, the Playground LTM will go offline and will head back under construction so that the team can improve it and release a new and better version down the road.
Epic didn't just end the post by talking about when the mode is coming to an end during its first outing, the developers also briefly discussed what's next for the new mode, and talked about how Fortnite's Playground mode will be improved and expanded in the next iteration. For instance, the next upcoming version of the mode will include the ability to select teams, including 1-vs-1 and 2-vs-2 matches, as well as have the ability to turn on or turn off aim-assist when using Xbox One controllers or the PS4's DualShock.
Traps will be corrected so that they properly affect teammates and enemies. This means you can use the spring trap to help boost a teammate up to a certain platform for some dynamic tag-teaming, or you can use a trap to hinder an opponent so you can get the drop on them.
The Playground mode will also receive more clarity in terms of visually tagging people on the battlefield. For instance, you'll be able to spot your teammates during play, so you can identify your buddies and separate them from the opponents.
Another new feature that's set to arrive in Fortnite's Playground is the ability to damage enemies using your pickaxe.
The Reddit post ends by notifying gamers that they'll have up until the release of version 5.0 to access Playground LTM replays.
The mode will wrap up next week after initially making its debut last week for a limited time. Epic originally had plans on getting it out during the final week of June but some delays held up the release, specifically with the matchmaking and server stability.
Over the weekend, Epic worked day and night to get the mode up and running properly and then finally unleashed it early during the first week of July. It was a nice little way to relax during the fourth of July holiday.
Of course, all limited time play modes must come to an end, and the first iteration of the Playground LTM will wrap up on July 12th. There's no due date on when it will return, but given that Epic managed to get the matchmaking all sorted out, it will likely be back sooner rather than later.
Your Daily Blend of Entertainment News
Staff Writer at CinemaBlend.