Monster Hunter World Gets Moogles And More In Final Fantasy Themed Behemoth Update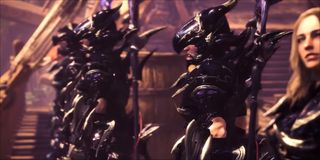 The developers at Capcom have been pumping out the updates for Monster Hunter World almost as if their lives depended on it (but I'm pretty sure they don't), giving gamers all sorts of cross-promotional content, costumes, and new items to collect. Capcom decided to take the cross-branded promotional efforts a step further by teaming up with a fellow Japanese publisher, Square Enix. The two Japanese publishing giants have revealed the joint effort of featuring Moogles and other iconic gear from the Final Fantasy franchise.
The trailer for the newest Final Fantasy crossover content was posted up over on the Monster Hunter YouTube channel. It opens with Nobuo Uematsu's classical "Prelude" in its full orchestrated rendition, and then it shows a crystal and explains that after being drawn to Eorzea by the aetheryte, Moogle makes an appearance in Monster Hunter World starting August 2nd.
The fully orchestrated prelude kicks in as we see some of the crossover content in action, as creatures and gear from Final Fantasy XIV make an appearance in Monster Hunter World. The main boss highlighted in the trailer is the Behemoth from Square's MMO, looking mighty and majestic during battle. He has his mighty paws at his disposal but can also call down a meteorite strike to make things difficult for hunters.
It's hard not to get goosebumps listening to Uematsu's incomparable theme while all of the content gets a spotlight in the two-minute long trailer. We see some of the monsters from Final Fantasy making their way into the wilderness of Monster Hunter, including guest appearances from long-time enemies featured in Square's series, such as the Cactuar.
The best part about the new content is that it's going to be part of a free title update for PS4 and Xbox One owners starting August 2nd next month. So you won't have to wait very long to check out the new hunts, get your hands on the new weapons and armor, and begin battling some of Square Enix's most recognizable foes from the popular MMORPG.
I'm almost shocked that we haven't seen any Chocobos in the update. It seemed like the perfect way to get players spending money in the cash shop.
Almost everyone in the comment section is absolutely ecstatic about the new armor and glaive that you'll be able to craft. The armor, in particular, carries the signature Final Fantasy flair, looking very similar to the Dragoon gear from the older 16-bit JRPGs brought to life for today's generation.
Monster Hunter World is currently available right now for Xbox One and PlayStation 4, but Capcom will also be releasing the game soon on Steam for PC as well shortly after the title update on August 9th. I do wonder if the Final Fantasy content will make the cut or will it arrive slightly later? I guess we'll find out next month.
Your Daily Blend of Entertainment News
Staff Writer at CinemaBlend.