Sony Joins The Retro Console Game With The PlayStation Classic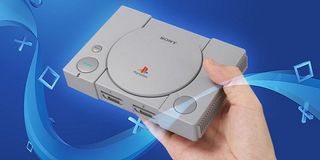 Nostalgia is a hot commodity in gaming these days, which is why it makes perfect sense that Sony has announced the PlayStation Classic, a miniscule retro gaming machine packed with 20 old-school hits. Sure, it's not the most original idea but, given how many people have warm memories of popping a disc into the OG PlayStation, we figure it'll be a hot wish list item this holiday season.
As noted on the PlayStation Blog, it's been nearly 25 years since the PlayStation brand first came screaming onto the market. They might not be the bad-boy rebels of the games world that they used to be (Remember those Crash Bandicoot commercials directly calling out Nintendo?), but the company's roots are still firmly planted in games that push the limits and offer unique experiences.
On Dec. 3, Sony plans to celebrate that history with the PlayStation Classic, offering 20 games pre-loaded on a device that looks exactly like the original system's hardware, just shrunken down by, like, 45 percent. It'll include a pair of retro controllers, an HDMI cord and a USB cable. The odd part is that the AC adaptor will be sold separately, because every good thing has to have at least one bone-headed blunder thrown in for good measure.
As for what games will be included in the collection, Sony has only revealed five titles so far. They are Final Fantasy VII, Jumping Flash, Ridge Racer Type 4, Tekken 3 and Wild Arms. That's already a nice little mix, including a couple of RPGs, a fighter, a racer and a wild platformer. We're definitely interested in learning what other games will be included on the device, but Sony will likely roll them out slowly, over time, to keep the hype train running full steam ahead.
All told, the PlayStation Classic will set you back 100 bucks, which is a bit of a bump over Nintendo's SNES classic. Speaking of which, this is obviously Sony's take on a formula that has worked very well for Nintendo in recent years. The NES classic was a bigger hit than even Nintendo expected and it took them a long time to finally bring more of those mini-consoles to market. In the meantime, they launched the SNES Classic in much better supply and, yep, it sold super well, too. Those Nintendo retro consoles had more games than the PlayStation Classic's 20, but those are also older games with much smaller file sizes. And before anyone accuses Sony of just flat-out copying a competitor, remember that there were quite a few retro consoles well before the NES Classic launched and the Switch is just a PlayStation Vita with a detachable screen. Yeah, I said it. (To be clear, I love the Switch, I'm just trying to make a point of how silly an argument "but they copied" really is).
So, with 15 games left to be announced for the PlayStation Classic, feel free to drop your personal wish list into the comments below.
Staff Writer for CinemaBlend.
Your Daily Blend of Entertainment News
Thank you for signing up to CinemaBlend. You will receive a verification email shortly.
There was a problem. Please refresh the page and try again.