Is A New Nintendo Switch Model Coming Next Year?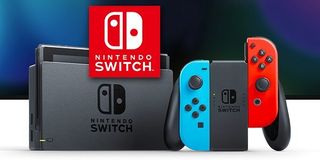 If you've been holding out on getting a Nintendo Switch, the latest rumor indicates that your patience could be rewarded sometime next year with the introduction of a new model boasting several improvements. According to a report, the timing is due to Nintendo's prediction of when the console's sales will finally start to slow down to a noticeable degree.
According to a report from The Wall Street Journal, via Gameinformer, Nintendo is kicking around the idea of introducing a revision to its Nintendo Switch hardware sometime next year. The report claims that Nintendo is gunning for a Fall 2019 launch, though the new hardware could be ready to roll as soon as next summer. Rumored alterations include a better screen and potentially better battery life.
Of course, there would be little reason to do a console redesign if those were the only things Nintendo was planning on changing, so we wouldn't be surprised if things like an integrated camera and microphone also make the cut. Another idea being kicked around are better specs, allowing the newer version of the Switch to play games that the older version can't, such as Kingdom Hearts III. I would be a bit surprised to see that happen, though, as fans weren't too pleased with Nintendo the last time they pulled something like that, introducing games for the 3DS that would only run on the newer models of the console. Then again, this is Nintendo we're talking about, so it's not a great idea to bet on what they would or would not do.
Given the Switch's unique characteristics, we're curious what a redesign might actually look like. They probably wouldn't want to make a smaller version that doesn't slide into the TV dock, as the console's versatility is one of its biggest selling points. Then again, the ability to fit a Switch in your pocket might prove appealing to folks who only want to game on the go. There's also the question of peripherals, as the Joy-Cons would probably need to fit whatever redesigned console Nintendo makes. Some games require detached Joy-Con play, like Super Mario Party, so a redesigned console would probably need to fit the standard controllers. But once again, this is Nintendo, so we don't want to assume anything is off limits.
The initial report states that Nintendo's timing for the redesign is due to a projected slowdown in sales of the console. It'll be about 2.5 years old by this time next year, which falls in line with standard redesign calendars for modern games consoles. Still, I'm curious why they expect next fall to be a slow time for the Switch. At the moment, folks are anticipating a new Animal Crossing, Metroid and mainline Pokemon game next year, all of which seem like they would provide a boost in hardware sales.
Until Nintendo makes an official announcement, all we can do is speculate. Feel free to do so in the comments below.
Your Daily Blend of Entertainment News
Staff Writer for CinemaBlend.