Fortnite's $1 Million Winter Royale Is Open To Anybody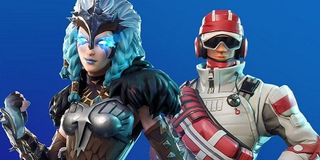 Epic is making some major improvements to its tournament structure in Fortnite over the coming weeks and, to help get the ball rolling, they'll be holding a Winter Royale that every player can participate in. With an award pool totaling a million bucks, it'll be worth it to test your skill against the best players in the U.S. and Europe.
Tournaments aren't exactly new to Fortnite, but the team at Epic has learned a lot from previous events and is implementing those lessons in the upcoming Winter Royale. The event is currently only open to players in the U.S. and Europe, though additional events for other regions are being planned.
Over on the Fortnite blog, Epic has given a rough outline of how the winter-themed tournament will go down. They're calling this a test event, though having $1 million in prizes up for grabs certainly adds a nice incentive for folks to jump in and help test things out. The Winter Royale structure is planned to be used for next year's World Cup qualification events, so consider this a nice way to familiarize yourself with the process.
First up will be the Winter Royale Qualifiers, followed by the Finals. The qualifying event is open to all players and you can take part simply by playing events through a given timeframe. The qualifiers for both regions is this Saturday and Sunday, Nov. 24-25. The European finals will be held from Nov. 30 to Dec. 1, with the North American finals from Dec. 11-12.
During the qualifying days, all you need to do is take part in the Winter Royale events and aim for the highest score you can manage. Your highest score from throughout the event will automatically be used as your qualifying result for possible inclusion in the finals. Once Epic verifies those who are eligible for the finals, those players will be invited to take part in the ultimate winter showdown. Simple, right? Just log in and play this weekend and, if you do well enough, you could be on your way to the finals.
As for the tournaments themselves, update v6.30 addressed several concerns from previous events which should help make the Winter Royale a more competitive affair. For starters, point tracking should be more accurate and the results should log to your account more quickly. That's important because players will then be grouped in additional rounds against players with similar point pools. So the first time you join a qualifying event, you should be dropped into a match with other folks who haven't taken part in the tournament yet. As you finish rounds and earn points, you should be dropped into matches with players with similar score totals. Just know that, the better you do, the longer matchmaking will likely take to pull together a full room of high achievers. It's likely
YouTube and Twitch will receive a big boost this weekend as prominent streamers play round after round with their eyes on the prize.
Your Daily Blend of Entertainment News
Staff Writer for CinemaBlend.