Red Dead Redemption 2 Player Says He Was Dumped For Calling His Girlfriend 'Sadie' During Sex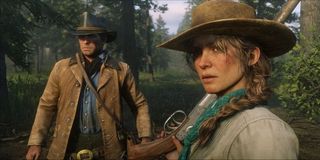 (Image credit: Rockstar Games)
There are a lot of rules to remember when you're in a relationship: always lower the toilet seat; always open the door for your girl; never eat barbecue burritos when you're going over to visit her parents; and don't ever call your girlfriend "Sadie" from Red Dead Redemption 2 during sex.
One gamer learned the hard way that unless your girlfriend is cosplaying as the character from Rockstar's Wild West third-person shooter, it's probably a bad idea to yell out someone else's name while making sweet, sweet love.
ComicBook.com is reporting that Sadie Adler has managed to find her name across the lips of gamers in even the most compromising of positions, specially while a man named Jeroen Bekkers was spending some intimate time with his girlfriend. The drama unfolded over on the Red Dead Redemption 2 Facebook group, where Bekkers recalled that during the moment where him and his girl were getting it on, he accidentally let slip the name "Sadie".
Bekkers kept the comment simple, simply stating "[Girlfriend] broke up with me, called her Sadie during the sex". I tend to doubt that Bekkers is a native speaker of English given the name and the grammar featured, but plenty of people found his comment heartfelt and funny. And why not? You're trying to do right by your partner by giving them everything they need during your most romantic moment, but you accidentally let slip someone's name who isn't even in the room.
As explained by ComicBook.com, Sadie Adler plays a fairly significant role in Rockstar Games' Red Dead Redemption 2 as a cowgirl on a quest for revenge. She evolves (devolves?) into a bloodthirsty gunslinger seeking vengeance against the men who wronged her and her household, and especially the men who killed the love of her life and burned down her home.
Now obviously we should mention that Bekkers could just been joking, and perhaps maybe the whole incident didn't happen. Obviously one would easily be able to tell just how true Bekker's story is by basically following his every move on Facebook and seeing if it's true that he really is single again.
Of course, most people will just laugh, shrug off the story, and then dive right back into Red Dead Redemption 2 as the main game to play this holiday season.
The game has become a major sales success, and Rockstar and Take-Two Interactive are already focused on the multiplayer component and monetizing it for what's bound to be a major influx of players looking to check out the game's online modes.
Just remember that no matter how much you love the game world, or how much you find yourself attached to the characters, don't do what Bekkers did and cost yourself a good relationship by dropping Sadie's name during your bedtime ballet sessions with your significant other. It might result in you waking up on a bright, sunny holiday morning only to realize that you're single and now forced to mingle. Of course, if you still have Red Dead Redemption 2, I suppose it all works out in the end anyway.
Staff Writer at CinemaBlend.
Your Daily Blend of Entertainment News
Thank you for signing up to CinemaBlend. You will receive a verification email shortly.
There was a problem. Please refresh the page and try again.