Red Dead Redemption 2: What We Know So Far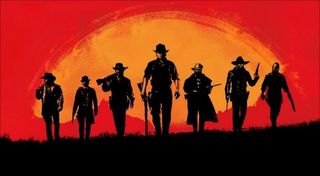 (Image credit: Rockstar Games)
With Red Dead Redemption 2 set to release in 2018 for home consoles, everyone is looking for more information on one of the biggest games due for release this year. Of course, that means it gives us an opportunity to go over what we know so far about Rockstar Games' upcoming title.
Now, there are tons of details being withheld from gamers as far as content and gameplay are concerned. Rockstar and Take-Two have been mum for the longest about a sequel to the 2010 release of Red Dead Redemption even being in development, and have, at all costs, avoided mentioning it at all. However, the time has finally come for the game to make its debut on the market later this year and that means it's time to go over all the details of everything we know about the title thus far, including what we can look forward to when it finally releases.
When Will Red Dead Redemption 2 Be Released?
Rockstar has finally announced a release date for Red Dead Redemption 2: October 26, 2018. Originally, it was thought that the game would launch in the first half of 2018, no sooner than April. Then, a rumor spread that the game might release June 8th, 2018, according to a listing on a Dutch retail outlet, as reported by Game Informer, but that date was never confirmed by Rockstar or Take-Two Interactive, and now we know why. Rockstar has been very selective of its release dates for the last few outings, so it's clear that the company tried to pick a date that best benefitted its endeavors. GTA V launched in September, away from all the big games that drop in November, including avoiding the holiday rush occupied by AAA heavy-hitters like Call of Duty and Assassin's Creed. The last Red Dead game launched in May, and Rockstar also launched Max Payne 3 in May as well. So, Rockstar seems to be positioning Red Dead Redemption 2 around GTA V's window, which launched in the fall.
What Are The Red Dead Redemption 2 Release Platforms?
One of the things that Rockstar did reveal about Red Dead Redemption 2 are the release platforms. We know for sure that the game is coming to the PS4 and the Xbox One. So what about PC? Well, Rockstar usually releases on PC following releases on home consoles. If a PC release of Red Dead Redemption 2 doesn't happen simultaneously with the Xbox and PlayStation consoles, it may arrive a year later, similar to GTA V. Some gamers are also hoping there will be support for the PS4 Pro and Xbox One X, but Rockstar has not clarified if it will support the mid-gen consoles with special features. Given some of the things showcased in the trailer, it's possible that they'll want to leverage the extra horsepower from the PS4 Pro and Xbox Scorpio in order to extend the visual immersion factors with longer draw distances, smoother frame-rates and increased post-processing effects. According to Polygon, the PS4 will receive access to post-launch DLC first before the other platforms.
Who Are The Major Characters In Red Dead Redemption 2?
We don't know who the main characters are in Red Dead Redemption 2. Rockstar hasn't revealed who the player-character(s) will be, or whether or not it will see players bouncing through multiple playable characters like in the first two Red Dead games. Given that gamers could play as multiple characters from a variety of backgrounds, ethnicities and nationalities, it's likely that Rockstar will keep that trend alive in Red Dead Redemption 2. So far, the only characters they've shown have been on a poster which featured seven silhouettes of gunmen walking against a red background. Rockstar has yet to reveal if those are the player characters or the villains of the game. In the original Red Dead Revolver players took on the role of Red Harlow, and battled against a rogue gallery of unique and over the top characters. In Red Dead Redemption players took on the role of John Marston, working to bring down his old gang. It's not unlikely that Red Dead Redemption 2 will follow a similar plot to the last two games.
What's The Story Of Red Dead Redemption 2?
We don't know what the story is for the sequel to Red Dead Redemption. No details have been given on the exact time line or what the motivations will be that power the narrative, but we do know that it will take place out west on the American frontier. Speculation has run rampant that players could be leading a gang through the frontier, while rumors also have been flying that the game may center around the American Civil War. Given that some of the characters in the poster look rather villainous, it's not hard to imagine that the story may revolve around a classic gunslinger's tale of revenge. Then again, the story could revolve around playing as the villain and hunting down someone who was once in your gang. Knowing Rockstar, the story could literally take any turn and there's no way to know exactly what they're going to do.
What Are Red Dead Redemption 2's Era And Setting?
The reveal trailer for the game made it known that Rockstar appears to be targeting the American Midwest. We see lots of empty fields, roads and dirt trails, but also lots of forested areas and even mountainous regions, meaning that it could be set in Nebraska, Colorado, Kansas, Oklahoma or even Texas. The last game, Red Dead Redemption, was set in fictional states based on New Mexico and Texas, so, they could be returning to those locations. As far as timing is concerned, we see trains, horses and carriages, and lots of living amenities common in the western frontier, meaning it's not unlikely that it's still set before 1915. There are a lot of different possibilities that could spawn from this time frame, including scenarios centered around panning for gold, or the great stage coach robberies, or the slow transition toward the industrial revolution. Rockstar has been mum so far on these details.
What Does Red Dead Redemption 2's Debut Trailer Tell Us?
One thing that Rockstar hasn't been able to squelch are opinions, analysis and breakdowns of the debut trailer they released on their official YouTube channel. While we now know what the release date will be, we are completely in the dark in terms of player-character(s) and exactly how the multiplayer will turn out. What we do find in the trailer is a massive game world on display with a returning day and night cycle, a very robust ecosystem involving a variety of wildlife and animals, NPCs carrying on about their day and what appears to be a living, breathing world that players will be able to get involved with. We also see that there are boats this time around, so this likely means that players could be swimming from one place to the next. For those of you not in the know, swimming was something that was missing in the original Red Dead Redemption. As of right now, the debut trailer veered far away from actual in-game play and instead focused on in-engine features and possibilities. We'll have to wait to see if the gameplay will offer as much as the trailer seems to promise.
What's The Technology Powering Red Dead Redemption 2?
It's hard to talk about the debut trailer without talking about the one thing that the trailer seemed to focus on: the game engine. The tech powering Red Dead Redemption 2 hasn't been revealed yet. We don't know exactly what's lying underneath the hood of Rockstar Games' epic upcoming western game. However, based on previous middleware licensing from Rockstar, it's almost a safe bet that they'll stick with NaturalMotion's Morpheme and Euphoria engines to give characters that natural motion when they move, fall, run, get shot, fall off horses, fight and interact with the environment.
We definitely see that lighting is real-time, and physical based rendering is now implemented into the Red Dead Redemption series, as evident with the isolated orange glow on the trees and surrounding area due to the light emissions from the campfire. This could play a big part in segments like exploring dark caves with torch lights, or tracking bandits at night by following lanterns or the smoke from their camps. The tech could usher in some fantastic new possibilities in terms of interactivity.
Hunting And Wildlife In Red Dead Redemption 2
Hunting played a big part in the original Red Dead Redemption. Players could take to the wilderness to knock off various animals and use their hides for money or crafting purposes. The game's hunting system was layered into the traversal, shooting and AI ecosystem that helped fill out the game's world. Based on what was showcased in the debut trailer, we definitely see that hunting will play a big role in the game, and that players will be able to take their prizes back into town. One thing that we now have to question is if hunting will be used for more than just hides and crafting material? Could it be possible that there will be survival mechanics involved in Red Dead Redemption 2 as well? We don't know, but it's certainly a possibility. Given the size and scope of what they've showcased of the game's map, it's very likely that hunting will play a much larger role in this sequel than what it did in the first game.
What We Know About Multiplayer In Red Dead Redemption 2
We know that Red Dead Redemption 2 will have a multiplayer component but we don't know what Rockstar is planning on doing with the multiplayer. Some people are hoping that it's similar to the seamless multiplayer from the first Red Dead Redemption. Others are hoping it's closer to GTA IV so that players have more control over the multiplayer experience and so that there will be options to load mods into the game if it does come to PC. However, given the (continued) success of GTA V it's very likely that Red Dead Redemption 2's multiplayer will be structured like an MMO, similar to GTA V. The rumor about the multiplayer being similar to GTA V was also hinted at in an earnings call by Take-Two Interactive CEO Strauss Zelnick, as reported by PSU. The company confirmed that the multiplayer will take place in a giant, atmospheric, open-world, so it won't be restricted to small maps or segments like other games, but will indeed be similar to GTA V's online sandbox.
What Are The Weapons Of Red Dead Redemption 2?
Rockstar Games hasn't mentioned anything about the weapons in Red Dead Redemption 2. We have no idea what your full arsenal will be like, but we do get a few glimpses of the weapons that will appear in the game thanks to the trailer. For instance, we see that there are pistols in the form of revolvers that will be present in the game, as evidenced with the gang of riders taking off into the dusty desert at the end of the trailer. We also see that long range rifles will make a return. The Henry repeater is briefly on display in the clip when the camera pans by the man standing in front of the fire. Another long range hunting rifle is also given a bit of screen time when the farmer walks his haul back to the ranch. We also get a brief clip of an older man sitting back watching a dog bark at fowl picking at a carcass while holding a shotgun. Rockstar also confirmed that a specially designed golden revolver will appear in the game called the Double Action Revolver. The weapon was first revealed as a special crossover item that's appearing in GTA V's online mode.
Customization In Red Dead Redemption 2
One of the staples of the previous game was being able to customize John Marston. He had a variety of outfits to wear, a variety of guns to wield, and some other goodies for players to acquire throughout their journeys. Now that we know that some form of multiplayer is on the way, it's possible that we could see the game adopt a similar customization mechanic like GTA Online. However, given all of the possibilities with such a large and diversely open world, it might even be possible that we could see added customization features to the game such as personalized custom horses or maybe personalized custom weapons. We've seen a great deal of customization make its way into the GTA series, so it wouldn't be surprising if Rockstar brings back customization for Red Dead Redemption and then elevates and evolves it to the next level. Rockstar will likely unveil more details about the game over on their official website.
Your Daily Blend of Entertainment News
Staff Writer at CinemaBlend.
Your Daily Blend of Entertainment News
Thank you for signing up to CinemaBlend. You will receive a verification email shortly.
There was a problem. Please refresh the page and try again.