Watch Ninja And Jimmy Fallon Take The Retro Game Challenge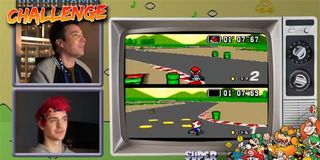 Streamer, YouTuber, and Fortnite extraordinaire Ninja has been making the rounds to all the major talk shows, thanks to his bubbly personality and often neon-dyed hair. He's basically been an envoy and ambassador for all-things Fortnite, which included taking on the retro game challenge with Jimmy Fallon on The Tonight Show.
The video was uploaded over on the official The Tonight Show YouTube channel, featuring a seven-minute segment with Ninja and Jimmy. They were decked out in their gaming gear, complete with Ninja donning a Red Bull bandanna to match his fiery red hair, and Jimmy wearing a similar bandanna with the giant words "Jimmy" scrawled across with images of his head posted in between his name.
Jimmy admitted that he could never defeat Ninja in a one-on-one game of Fortnite, but he decided to challenge Ninja in a number of retro games, including Pong on the Atari, Super Mario Kart on the Super Nintendo, the Summer Games on the Sega Genesis, and Goldeneye 64 on the Nintendo 64. Ninja managed to take home wins in Pong and Super Mario Kart, while Jimmy managed to score victories in the Summer Games and Goldeneye 64. The final battle was decided in a game of Rocket League, which Ninja handily won after Jimmy nearly scored on himself.
What was most surprising was how well Ninja did in games he claimed he never played before. He managed to pick up the controls and the mechanics for the 16-bit titles rather quickly, but had a difficult time adjusting to Goldeneye 64 since, at the time, the game didn't have a proper full-degree look-view with the analog stick, and was extremely stiff. Jimmy managed to take advantage of Ninja's control-scheme mishap and get the kill on him after Ninja initially got the drop on Jimmy.
The two seemed to have a lot of fun playing the retro games together, but obviously those titles don't bring in the bread and butter that Fortnite does when Ninja is playing online and streaming through Twitch.tv.
The comment section on the Jimmy Fallon video is mostly focused on Ninja having reported a player for stream-sniping, which some people feel was warranted while others feel was not. The discussion is more about the hate that Ninja receives despite doing a lot for charity and working hard to make video games more widespread than ever.
The video game celebrity has definitely had his fair share of ups and downs over the past year as he's skyrocketed to massive fame and celebrity status. He's tried to maintain a grounded sense of reality and focus on streaming and his wife, which also managed to cause controversy, but he doesn't seem to let it show during his work.
Ninja seemed to have a lot of fun kicking it old-school with Jimmy Fallon in the retro game challenge, which is bound to help make his brand, and Red Bull, even more recognized throughout television and online media.
Staff Writer at CinemaBlend.
Your Daily Blend of Entertainment News
Thank you for signing up to CinemaBlend. You will receive a verification email shortly.
There was a problem. Please refresh the page and try again.