Leaked Copy Of Resident Evil 2 Confirmed To Be Fake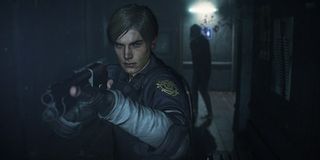 It appeared this week that early copies of Resident Evil 2 were being sold in Europe, but a recent update from developer/publisher Capcom's German HQ has confirmed that it was indeed a fake. In other words, you don't need to tiptoe around social media for the next two weeks out of fear for spoilers.
The folks over at Comicbook picked up on a tweet that looked like a pretty legitimate copy of Resident Evil 2, supposedly being sold in some European stores ahead of its January 25 launch date. It boasts the game's revealed box art, a rating warning, and even looks to have a legitimate pricing sticker attached.
Twitter user Veteran Trainer LORD posted the image as a warning, telling fellow fans of the series to be on the lookout for spoilers in the next couple of weeks. They updated the tweet heading into the weekend stating that a Facebook group had apparently created the hoax. That revelation came from Capcom getting involved, confirming that copies of the game had not actually shipped to stores yet. Folks did some additional digging and, yep, it looks like this was created by a fan of the series with a bit too much time on their hands.
Given the fact this is a remake from a game that originally launched in 1998, you'd be forgiven for wondering what all this "spoiler" talk is about. Well, since this is a from-the-ground-up remake, Capcom decided to make some alterations along the way. While the main story is the same, they opted to change some things like key plot points, puzzles, enemy placement and the like. It was a risky move, considering how big of a following the original game has, but Capcom argued it wanted to create some new surprises so even series vets would not know what, exactly, lurked around each corner.
Having played the game for about an hour at E3 2018, I for one am eager to see how the whole game turned out. Resident Evil 2 looks fantastic running in the engine from Resident Evil VII, and it was super cool seeing environments from the original game realized with this new technology. The game was also pretty-damn spooky, so horror fans should definitely keep this one on their radar. It's just nice to know that the "early copy" was a fake, so all of those new twists and turns Capcom put in the game can remain a secret for the time being.
Given the fact that both Smash Bros. Ultimate and even Kingdom Hearts III leaked early recently, here's hoping RE2 remains under lock and key for just a couple more short weeks. People worked on these games for years and want the community to enjoy that effort when the game officially arrives. I'll never understand anyone's desire to ruin the fun for everybody else.
Staff Writer for CinemaBlend.
Your Daily Blend of Entertainment News
Thank you for signing up to CinemaBlend. You will receive a verification email shortly.
There was a problem. Please refresh the page and try again.