Michelle Rodriguez Reveals Why She Won't Return To The Avatar Franchise
Michelle Rodriguez will not be going back to Pandora.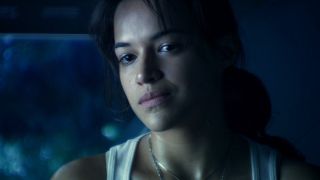 (Image credit: Disney)
Michelle Rodriguez has become best known for the badass women she plays in iconic action movies, including Letty in the Fast and Furious franchise, Rain in Resident Evil and Trudy in Avatar. Another common factor among all these characters is they all died in one of their respective franchise's movies. While Rodriguez's characters came back to life in the Fast and Furious movies and Resident Evil, she revealed that she's drawing the line with Avatar, saying she won't return to the franchise.
She makes a fair point, there are only so many times a gal can die and come back before it becomes too much. Rodriguez made this clear while talking to Vanity Fair, saying James Cameron was thinking about bringing her character Trudy back to Pandora. She responded by saying she thinks her character should just stay dead this time, recalling various moments throughout her career:
In the case of Avatar, Rodriguez's character dies in a fiery plane crash as she tries to help the Navi'i fight the humans. Unlike Sigourney Weaver, the actress behind Trudy did not return as a new character, and she wasn't part of the Avatar: The Way of Water cast. I totally get where Rodriguez is coming from, to have so many of her characters die and come back to life is both random, and probably a bit frustrating. If Cameron wanted the actress to stay in the franchise, maybe the team should have listened to Turdy's hope in the movie when she said:
Being a martyr in a movie is cool and all, but for the moment to maintain its meaning, the character needs to stay dead. I know when I watched Avatar for the first time I was bummed Trudy died, but I also recognized the heroic sacrifice she made.
However, I also love Michelle Rodriguez and would like her to be in every installment of every franchise she's been a part of. For example, it was epic to see her return to iconic roles like Letty, when she surprisingly came back to life in Fast and Furious: 6. I know when I watched the sixth Fast and Furious movie for the first time I thought the actress gave her best performance of the saga, and seeing her character return as a stronger more prominent person in the saga was so exciting. Although, there are only so many times you can believably bring a character back from the dead, and I think this being the reason for the actress not wanting to return to Avatar is understandable.
Along with not wanting to have another character of hers unexpectedly come back to life, Rodriguez is also an extremely busy actress, who is working on other franchise films outside of Avatar. On the 2023 movie schedule alone she's set to star in Dungeons and Dragons: Honor Among Thieves, which hits theaters March 31, and she'll return as Letty as part of the Fast X cast on May 19. So, while we may not see Michelle Rodriguez fly around Pandora again, there's a lot to look forward to from the action star, and you can always go back and watch her as Trudy in Avatar with a Disney+ subscription.
Your Daily Blend of Entertainment News
Riley Utley is a Weekend Editor at CinemaBlend. She spent many years working in local journalism across the country writing about art, news and sports. One of her favorite films is When Harry Met Sally and she walks around constantly quoting Ted Lasso.