Fans Called Out Netflix Head Honcho After He Said Streamer Had 'Never Canceled A Successful Show.' Now, The Data Proves They Were Right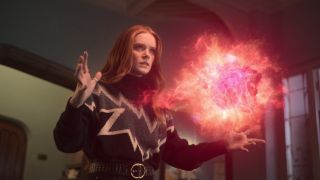 (Image credit: Netflix)
Netflix's Co-CEO Ted Sarandos infamously said the streamer has never canceled a successful show, and fans of shows that were canceled after only a season or two were livid. Many were baffled by these comments, pointing to lots of shows they believed to be popular that were canceled early in their runs. However, a new study shows that there is merit to what the Netflix head honcho said.
A study done by OnlineCasinos broke down the data for three shows that were recently canceled by Netflix. It showed the number of seasons, the number of weeks on Netflix's Top 10, and the total hours viewed while in Netflix's Top 10. The three shows mentioned were Fate: The Winx Saga, Resident Evil and Raising Dion. To break that data down:
Fate: The Winx Saga had two seasons, spent seven weeks in the Top 10 and had 190,790,000 hours viewed while trending.
Resident Evil had one season, spent three weeks in the Top 10, and had 173,400,000 hours viewed while trending.
Raising Dion had two seasons, spent seven weeks in the Top 10, and had 172,870,000.
For reference, even though it took a bit for Netflix to renew Wednesday, it got over 341 million hours viewed in one week, and last summer Stranger Things' fourth season quickly broke records by racking up 286,790,000 hours of viewing in its first three days on the platform. The three shows mentioned above don't even close to the total hours viewed for shows like the Addams Family spin-off, Stranger Things and other mega-hits like Squid Game and Bridgerton.
While this data does prove Sarandos' point, there are still fanbases fighting against it, and campaigning for their favorite show to return. This is especially true for Warrior Nun and the #SaveWarriorNun movement. The fans of the Alba Baptista show called out Sarandos' statement, pointing out all the engagement and love the show has received. However, it's also worth noting that while this show was canceled after two seasons, like the ones mentioned above, it was not part of the study.
This new study does show that Sarandos was correct in claiming that they don't cancel successful shows. However, I'd assume the fanbases of shows like Fate: The Winx Saga and others are still livid about their favorite series getting the nix at Netflix.
It's a bummer to think about how many shows Netflix has canceled, however, to stay afloat not everything can stick around. Which sadly means there are lots of shows that won't get the green light for new seasons.
To see what's coming up next for Netflix be sure to check out the 2023 TV schedule, and if you want to watch the shows mentioned in this story, you can do so with a Netflix subscription.
Your Daily Blend of Entertainment News
Riley Utley is a Weekend Editor at CinemaBlend. She spent many years working in local journalism across the country writing about art, news and sports. One of her favorite films is When Harry Met Sally and she walks around constantly quoting Ted Lasso.