360 Review: Scene It? Lights, Camera, Action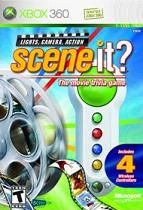 Players: 4
Price: $59.99
Platform(s): Xbox 360
Developer: Screenlife Games & WXP
Publisher: Microsoft
ESRB: Teen
Website: Scene It (opens in new tab)
Rating:
Microsoft Games division has worked really hard to appease a wide variety of gamers; from action to adventure and from strategy to party games, the Xbox 360 has it all. And now MS's latest attempt at winning over the holiday consumer is Scene It? Lights, Camera, Action, a party game with four unique wireless controllers (which come included in the pricey package) and enough movie related puzzle/party-games to make Wii owners jealous.
Getting Scene It setup and started is a breeze and should allow for most of any casual crowd and their fellow party members to plug and play in just seconds. If you ever played previous versions of the game then you might be pleasantly surprised to know that this new iteration is much faster than the take-turn board game, and also slightly more frantic and fun due to the questions being poised for quicker team play than its board game counter part. The availability of gameplay modes offers gamers everything from anagrams, soundclips and slogans to movie clip questions, visual puzzlers and quotes. The variety is definitely there and should keep party goers and multiple players well entertained.
Visually, audibly and aesthetically, there isn't much to comment on considering that it's a puzzle party game. Anyone expecting BioShock quality sounds or Lair like graphics best look elsewhere...presumably BioShock or Lair. However, if all you brought to the table of expectations is the willingness to play a simple party game with friends or family, then Scene It won't disappoint in that regards.
Now the game itself is played with the included big button controllers, which are so limited in their controller functionality that they could only be played with a party game like Scene It (i.e., the controllers look like a pre-school version of the original 360 controllers, minus everything but the face buttons.) In all honesty though, I think this is a bit of a money sucker due to the inclusion of the wireless controllers. I don't see why the game couldn't come with one controller and leave it up to the players to buy the rest...at their own discretion. Could you imagine if Smackdown vs Raw 2008 came jam packed with four wireless controllers? You could buy a new console in that case.
Nevertheless, Microsoft and gang found a way to make a simple party game surpass an appropriate $19.95 price tag and excel into the $59.99 territory. And while there are a lot of puzzle questions and party games available to play in Scene It, I can't recommend to any casual gamer looking for a casual puzzle game for the family (or for a party) to pick up Scene It unless they actually have the cash to blow. My advice is that anyone looking to play a fun party game best wait for the price to drop for Scene It?...or they could just use the cash to buy a Wii.
All in all, though, this wasn't a bad concept by the big MS, but if they were aiming to appeal to the less-hardcore market they should have taken into account that said market probably won't be willing to fork over that kind of cash in grave abundance. Nice try, though, Microsoft. Maybe next time.
Staff Writer at CinemaBlend.
Your Daily Blend of Entertainment News
Thank you for signing up to CinemaBlend. You will receive a verification email shortly.
There was a problem. Please refresh the page and try again.