4 Fake Consoles That People Took Way Too Seriously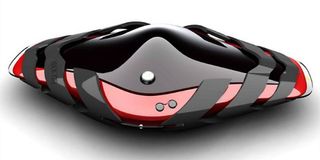 This week rumors of a next-gen gaming system called "Nintendo Fusion" swept through the Internet. The Fusion, featuring both a handheld and a console, seemed too good to be true and it was.
The rumors, as it turn out, started with one site receiving an anonymous tip. The website in question says that they don't even know who the source is. Too bad, because I was really looking forward to checking out the Fusion's "Thumbprint Security Scanner with Pulse Sensing Feedback."
This isn't the first time that a fake console rumor has set the Internet ablaze, though. Here are a few other hoaxes from the past few years.
X-Surface
The Myth
In the months before Xbox One's announcement, no one had any idea what to call Microsoft's next console. Rumor articles alternated between a few different code names such as Xbox 720, Nextbox or Xbox Infinity.
A tipster who identified himself as a Microsoft employee said we were overthinking it, though. In an email to multiple gaming publications, he said that the Xbox 360's successor would simply be called "Xbox." It would serve as a hub for multiple "X"-branded devices.
The first device to interact with the new Xbox was going to be called X-Surface. This tablet was described as a "portable gaming system" that could also play videos and music. X-Surface was said to be capable of running Ubisoft's open-world game Watch Dogs at 55-60 frames per second. The device used a brand-new OS rather than Windows 8.
The Reality
Soon after the X-Surface story was published on multiple sites, the "tipster" admitted on Tumblr that it was all a ruse. He created the rumor to expose journalists as lazy gossipers.
"By tagging a post with 'rumour', most writers/editors believe they can get away with spreading false information for their own benefits. They are the only ones to gain from such practices, whilst the gaming fans end up with speculation and, sometimes, outright lies," he said.
The hoaxer muddled his point by then railing against a journalist who did call him on his bullshit. Still, the whole episode showed just how easily these rumors can spread.
Nintendo On
The Myth
Rumors are at an all-time high before every E3. Journalists are tapping their sources to find out whatever they can before companies make their official announcements. Fans are speculating about what each company will show off at the convention. Hoaxers, meanwhile, think of ways to trick both groups.
E3 2005 fueled more gossip than usual, thanks to a new generation of consoles. Microsoft, Sony and Nintendo each had a new gaming system to share. Gamers chatted for months about what these new consoles could bring.
Five days before Nintendo's press conference, a trailer for Nintendo's new console leaked. The sleek video showed off Nintendo On, a new gaming experience driven by a virtual reality headset. Players would no longer have to control Mario with a gamepad - they could step into his shoes. Nintendo was going to bring VR mainstream, a feat that they had attempted and failed a decade earlier with Virtual Boy.
The Reality
The Nintendo On video, believe it or not, was the work of one person. Pablo Belmonte, a 23 year old artist in Spain, created the teaser video over five days. Belmonte didn't intend to mislead fans or journalists. Instead, he was hoping the video would draw Nintendo's attention and help him secure a job at the company.
Nintendo's new console, meanwhile, turned out to be the Wii. While this console didn't come with a headset, it did have controllers that sensed 3D motion. The Wii Remote allowed players to control their characters with physical gestures instead of just button pushing. The console was a step toward virtual reality, even if it wasn't the step that Belmonte imagined.
Xbox Pure
The Myth
In 2008, Cheap Ass Gamer user "desz" posted a snapshot of an alleged Microsoft memo. This memo discussed the creation of "Xbox Pure," a new model of the Xbox 360. The memo was supposedly passed along by a tipster who had leaked the Xbox 360 Elite model details in the past.
The rejected name mentioned in the memo, Xbox Lean, led some press to speculate that Xbox Pure was a slimmer version of the 360. The Xbox 360 was three years old at that point so it seemed logical that Microsoft would be planning to redesign it. Or maybe it was a budget model without a hard drive?
The Reality
Xbox Pure, as it turns out, was a complete fabrication. CheapAssGamer was holding a contest to see which user could come up with the craziest rumor and get blogs to publish. Obviously, desz won.
The hoax sort of became a reality in the end, though. Microsoft released a slim Xbox 360 in 2010. However, the company didn't give this model a New Age name. They also didn't remove the hard drive. Instead, the slim 360 had a 250GB drive to reflect the rise of downloadable games.
Sega Spectrum
The Myth
The Sega Spectrum rumor first began with the above image. The Japanese text apparently says "A new world of entertainment." The date hints at an announcement on June 12th, smack-dab in the middle of E3 2013.
Now, to the untrained eye, this might seem like an easy hoax that someone threw together with Microsoft Word. In some gamers' minds, though, this was the first sign that Sega was making its glorious return to the console market after a decade-long exile. The PS4 and Xbox One wouldn't stand a chance against a true successor to the Dreamcast armed with exclusives like Shenmue 3 and Phantasy Star 5 and every other piece of vaporware that Sega fans have been dreaming about.
The Reality
E3 2013 came and went without Sega announcing a new console. In fact, I'm not sure they announced anything called "Spectrum." It seems that the whole thing was just made up in some dark corner of the Internet.
Like all effective hoaxes, Sega Spectrum was driven by desire. It's much easier to believe something if you want it to happen. I grew up during Sega's golden age, the days of Shinobi and Streets of Rage and decent-to-good Sonic games. The company made great games and hardware back then. The fantasy that New Sega is going to suddenly morph back into Old Sega is a tempting one. It would be fun to see them charge into the ring like Ultimate Warrior and challenge Microsoft and Sony for hardcore gaming supremacy.
There are no facts to suggest that this will ever actually happen, though. Sega hasn't made a home console in years and hasn't shown any interest in building a new one. No amount of fan excitement is going to change that.
Staff Writer at CinemaBlend.
Your Daily Blend of Entertainment News
Thank you for signing up to CinemaBlend. You will receive a verification email shortly.
There was a problem. Please refresh the page and try again.