50 Cent: Blood On The Sand Launch Trailer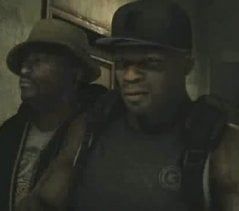 The original game received a whole lot of flak from gamers, the press and anyone who has a right mind…and rightfully so, I might add. The original game was a lack-luster third-person shooter that offered very little in the venue of entertainment. The sequel, however, seems to have struck the right chord of ingenuity and high-edge action.
Due out on February 24th for the Xbox 360 and PS3, 50 Cent: Blood on the Sand has a lacking story in that 50's ghetto skull is kidnapped by a gangster and it's up to him and the G-Unit to get it back. Right…that's a real important reason to be in the Middle East, fellas.
Anyway, the high-point for the game is the shooting, cover-mechanics and the weapon selection. Added to this is the counter-grapple system that allows players to get in close to enemies and duke it out with dynamic fisticuffs. Honestly, it's one of the cooler features of the game. To top this off is the online cooperative mode that allows players to take down the enemies with a friend.
While it's a game that's not really a break-through in the third-person genre, it at least seems to focus heavily on solid action. You can check out the (surprisingly) awesome looking trailer below. And be sure to stay tuned in with Blend Games for more news and information on all things gaming.
Staff Writer at CinemaBlend.
Your Daily Blend of Entertainment News
Thank you for signing up to CinemaBlend. You will receive a verification email shortly.
There was a problem. Please refresh the page and try again.