Afro Samurai: An Update To Make The Game Not Suck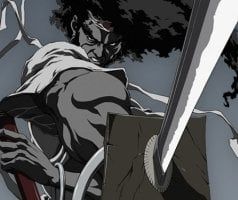 I couldn't think of a better headline because, honestly, I don't think there could be a better headline regarding the update Surge has released for their ultimate-mediocre hack-and-slash action game, Afro Samurai.
All right, so maybe you played the game despite reading Blend Games' Review of it, and you're still geeked about it, but you want a few things fixed. Well, no worries. Surge has heard your pleas for fixdom, patchedness and correctication. Hence, they have assembled their minds together again to bring Afro Samurai players the following update for the Xbox 360 and PlayStation 3:
• Camera settings can now be accessed through the Options menu
• Invert camera control option has been implemented
• Gameplay tuning – Improved Brother 6 boss fight
• Multiple bug issues have also been resolved
Yes, so adding things that should have been there from the start are now included in this new update. You can learn more about the game by visiting the Official Website. And remember to stay tuned in with Blend Games for further updates and news regarding all things gaming.
Your Daily Blend of Entertainment News
Staff Writer at CinemaBlend.