Aliens: Colonial Marines Still Alive?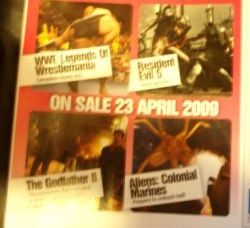 Rumors keep popping up that Gearbox Software's squad-based shooter Aliens: Colonial Marines is cancelled but it looks like the old boy's still kicking. The upcoming issue of a UK gaming magazine will actually have a preview of the elusive game.
According toSega Nerds, the March issue of Power Station states that Colonial Marines will appear in their April Issue. The issue hits newsstands on April 23rd so if it was an April Fool's Joke, it would be a poorly-timed one. We'll have to wait and see.
Obsidian Entertainment's Aliens RPG has been the subject of numerous cancellation rumors as well. The complete lack of information released about either game has only helped these rumors gain steam. Hopefully Marines does in fact make an appearance in next month's Power Station and prove its continued existence to the world.
Image 1 of 1
Staff Writer at CinemaBlend.
Your Daily Blend of Entertainment News
Thank you for signing up to CinemaBlend. You will receive a verification email shortly.
There was a problem. Please refresh the page and try again.