Aliens: Infestation Ties-In With Aliens: Colonial Marines Says Wayforward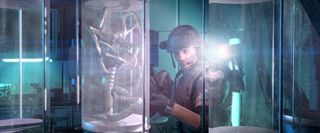 After Sega got hold of the Aliens property they have been streamlining releases of games associated with the popular sci-fi franchise. The latest game to come out of the Sega publishing house featuring those face-hugging sons of guns is called Alien: Infestation for the Nintendo DS.
In a recent interview with AVP Galaxy, the developer behind the DS title, WayForward Games, answered a few community questions about Aliens: Infestation and in one question they explain how it all ties-in with Gearbox Software's upcoming Aliens: Colonial Marines.
Jeff Pomegranate, the producer at Wayforward Games, explains how they worked closely with Gearbox in developing Alien: Infestation, saying…
In regards to working on their game and collaborating stories between both games to hold some form of continuity and symmetry to the overall Aliens universe, game director, Adam Tierney commented in the interview, stating…
Alien: Infestation will be a side-scrolling action game for the Nintendo DS set to arrive this fall, which features a number of familiar and new Alien species that both ties into and expands on the sci-fi fantasy mythos.
Aliens: Colonial Marines is expected to arrive next year in March for the Xbox 360, PS3, PC and Wii U.
You can find out more about Alien: Infestation in the interview by heading on over to AvP Galaxy.
Staff Writer at CinemaBlend.
Your Daily Blend of Entertainment News
Thank you for signing up to CinemaBlend. You will receive a verification email shortly.
There was a problem. Please refresh the page and try again.