Another Possible Skyrim DLC Title Emerges: Hearthfire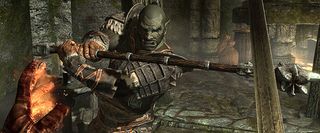 ZeniMax Media, parent to Bethesda Softworks, filed another Elder Scrolls V: Skyrim-related trademark this week. Wonder what they're planning to use the title Hearthfire for?
This is the third trademark ZeniMax has filed with regards to Skyrim in the past couple months. In April, they claimed the phrase "Fus Ro Dah." Earlier in May, they snatched up the title Dragonborn.
The phrase "Hearthfire" has a couple connections to series lore. Fusible notes that a book in Skyrim is called "2920, vol 09 – Hearth Fire". Furthermore, Hearthfire is the name of one of the autumn months in Tamriel's calendar as well. It's not a hugely important term in the series, then. It seems unlikely that this is a "defensive" trademark meant to prevent some other company from making a product called Hearthfire. I can see someone selling "Fus Ro Dah" t-shirts to profit off Skyrim fandom but Hearthfire is too obscure a term for that sort of use.
The application for Hearthfire, like the one for Dragonborn, applies to "Computer game software for use with computers and video game consoles; downloadable computer game software offered via the internet and wireless devices." It's way too early for Bethesda to be planning another full game in the series. Presumably these terms, then, are titles for Skyrim downloadable content.
Bethesda announced the first Skyrim DLC pack, Dawnguard, at the beginning of May. Thanks to the company's timed exclusivity agreement with Microsoft, we know there are at least two DLC packs planned for the open-world RPG.
Staff Writer at CinemaBlend.