Assassin's Creed 4: Black Flag Announced With Exclusive PS3 DLC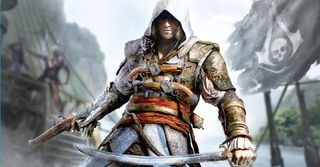 Ubisoft has announced Assassin's Creed 4: Black Flag for multiple consoles and the PC. They gave gamers their first look at the pirate-themed assassination game by releasing the official box art.
Black Flag's box art shows an Assassin standing on the deck of a ship. He wields a sabre in one hand and a flintlock pistol in the other. A flag in the background is emblazoned with the Assassin's emblem with a skull in the middle.
Assassin's Creed 3 introduced ship battles to the series. Presumably this feature will be an even bigger part of Black Flag. It's a bit weird for an assassination game to focus on ship battles ("I'll silently eliminate the target with cannonade from my galleon") but I imagine there's plenty of traditional AC action mixed in as well.
Packshots for the PS3, Xbox 360, PC and Wii U were released today. It's probable that the game is being developed for the PS4 and next Xbox as well. Both systems are expected to launch this fall.
The PS3 box art reveals that an hour of exclusive DLC will be included with that version. No big shock there, as Assassin's Creed 3 had PS3-only DLC as well.
Additional details on Black Flag will be revealed on Monday.
Update: The first screenshots and trailer are now live.
Image 1 of 4
Image 2 of 4
Image 3 of 4
Image 4 of 4
Staff Writer at CinemaBlend.
Your Daily Blend of Entertainment News
Thank you for signing up to CinemaBlend. You will receive a verification email shortly.
There was a problem. Please refresh the page and try again.