Assassin's Creed 4 Honest Trailer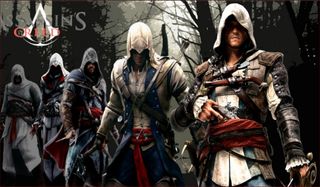 There's probably a thousand and one different things that pelt the annoyance-bone of gamers when it comes to Assassin's Creed, but there's no better way to address them than to do so with a gosh darn honest trailer.
Dorkly has taken it upon themselves to dive into the "Honest Trailer" bit after Screen Junkies managed to find so much success having a run at it. I mean, do you see how many people clicked on those honest trailers for those super hero flicks? You could start a small army with the amount of fanboys and girlgeeks dropping comments on those videos like rats dropping pellets in your attic.
Dorkly, very wisely, decided to get in on the schtick; earn some of that fandom coin for themselves. What better way to do so than by recycling some in-game footage and lathering it up with a sexy movie-guy voice? There is no better way, and that's why the only thing that the creators hear ringing in their ears is a little something-something that sounds like "ka-ching".
As for the trailer itself, it's a mish-mash of giggles and a few bursts of all-out-laughter. It's not groundbreaking stuff, but anyone who played any small bits of Assassin's Creed games will probably catch the jokes. Anyone who hasn't played Assassin's Creed games will probably sit there staring at the screen with an expression about as confused as an architect trying to understand primitive cubism.
The one part that I think really stood was the fact that the trailer appropriately makes it clear that Edward Kenway isn't even a real assassin. He kills a "real" assassin from the Assasin's guild at the beginning of the game, in a silly way I might add, and then proceeds to imitate one of the guild members throughout the game. Where did he learn his (ugly) sword-fighting technique and assassin skills? Well, because it was in the script.
Switching gears a bit. Smosh also released a "rock anthem" for Assassin's Creed IV, which you can view below. It was a bit grating but if you're into punk-rock you might like it.
Actually, that made the Honest Trailer above look like the Citizen Kane of trailers.
Anyway, Assassin's Creed IV: Black Flag is now old news. The game is no longer top of the crop given that there's already a new Assassin's Creed: Unity on the way. So Dorkly better start prepping to spend 40 hours playing through the upcoming game so they can drop another honest on the community.
If you're interested in picking up a digital copy of Black Flag, just wait for Steam's summer sale to roll around and then pick it up for dirt cheap... especially if you're afraid it might be as bad as Assassin's Creed III.
Your Daily Blend of Entertainment News
Staff Writer at CinemaBlend.
Your Daily Blend of Entertainment News
Thank you for signing up to CinemaBlend. You will receive a verification email shortly.
There was a problem. Please refresh the page and try again.