Assassin's Creed Unity Owners Will Get Free Game, Patch 4 Next Week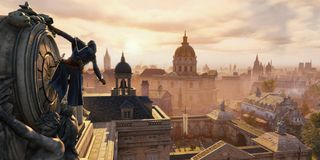 Assassin's Creed Unity owners have two things to look forward to next week. Ubisoft will be giving them a new patch and - in some cases - a free game.
The free game is compensation for Assassin's Creed Unity Season Pass holders. Due to AC Unity's various bugs at launch, Ubisoft decided they will release the future downloadable content for free. Instead of refunding money to players who bought the DLC Season Pass, Ubisoft is offering them their choice of one of these games:
The Crew
Far Cry 4
Watch Dogs
Assassin's Creed Black Flag
Rayman Legends
Just Dance 2015
"From next week, you will be able to connect to a dedicated website to log in and select the free game of your choice," Ubisoft said in an update on their blog today.
Some Season Pass holders may have trouble redeeming the free game, though. Ubisoft said that if you didn't activate your Pass by November 25th, there may be a delay of unknown length before the system recognizes you as eligible.
There are some other restrictions on this free game. It needs to be on the same platform that you own Assassin's Creed Unity. Furthermore, the exact list of games you choose from could vary depending on what country you live in.
Ubisoft is still trying to fix up Assassin's Creed Unity as well. They estimate that the fourth patch is just a few days away.
"We expect that Patch 4 will be released next week on Monday, December 15 across all platforms," Ubisoft said in another blog post. "This patch will address issues with stability and performance as well as online matchmaking and connectivity (among other fixes and improvements)."
The development said earlier this week that these three issues are their priorities:
Game crashes after loading your save: We're devoting a lot of attention to this one and we have a workaround (try taking your system offline and reload your save, you should be able to play offline). Most instances of this crash will be eliminated in Patch 4, but if you do still encounter this issue after the Patch is applied please file a Customer Support ticket to help us identify what your issue is so we can create a fix for it.
Error CE-34878-0: Similar to the crash mentioned above, the game freezes or crashes after loading your save. This particular error message is exclusive to PS4. This issue should be resolved in Patch 4.
Initiates legacy recognition issues: Many of these issues have been resolved, but we've noted that it could still take several days for all of your progress from past games to be fully updated. If after five days you still don't see your progress accurately reflected on the site, please file a ticket with Customer Support so we can more closely examine this issue.
While Ubisoft believes that Patch 4 will fix most remaining problems with the game, they encourage players to contact customer support with any issues.
Staff Writer at CinemaBlend.
Your Daily Blend of Entertainment News
Thank you for signing up to CinemaBlend. You will receive a verification email shortly.
There was a problem. Please refresh the page and try again.