Awesomenauts Full Digital Guide Available For iOS, Android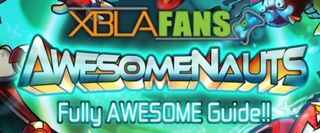 A new digital guide has become fully available for gamers looking to get a good understanding of the game mechanics, characters and all the ins and outs of learning how to become a legitimate awesomenaut at Awesomenauts. The app is available right now for both iPhone and Android users, so there's no mobile discrimination to worry about when using the app.
The app itself comes courtesy of our pals at XBLA Fans, with site owner Ben Fisher stating...
Being officially licensed means that this wasn't some back alley deal that went down involving a small plastic bag and a fistful of dollars. Ronimo standing behind the guide means that you're getting a fully endorsed guide for the game that contains legit info from start to finish.
What's more is that the game was actually played through and through by XBLA Fan's staff. So the added bonus is that it's real gamers providing actual, 100% born and raised information from first-hand gameplay experience. It's none of that manufactured stuff from clone press sheets or that nasty gloop from third-party middlemen who staple and tape together info from various other, less reputable sources.
You can pick up the app right now for your iPhone or your Android phone. Just head on over to the Apple app store or the Google Play store.
Staff Writer at CinemaBlend.
Your Daily Blend of Entertainment News
Thank you for signing up to CinemaBlend. You will receive a verification email shortly.
There was a problem. Please refresh the page and try again.