Battlefield 3 Strike At Karkand Gameplay Trailer Brings Back Memories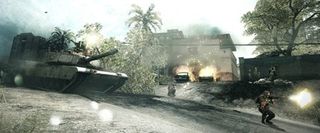 DICE has sent out a new gameplay trailer for Battlefield 3's "Back to Karkand" expansion. This latest trailer focuses on the Strike at Karkand, one of the new maps included in the DLC.
"Karkand" will also add three more maps: Gulf of Oman, Wake Island and Sharqi Peninsula. All four are remakes of locations from Battlefield 2. The DLC will include ten weapons and three vehicles from that game as well.
The expansion introduces a new Assignments feature. Assignments are challenges that persist across several matches. You can work toward completing them in the standard BF3 or "Back to Karkand" maps.
For example, the "Let it Rain" Assignment tasks players with racking up ten kills with a light machine gun and two kills with mortars. By completing this challenge, you'll unlock a new weapon and set of dog tags for use on any map. A new Assignment, Creeping Death, will also be unlocked. There are ten Assignments in total for players to tackle.
"Karkand" will be released in December. It'll arrive on PSN a week before other platforms. If you pre-ordered the game, you'll get the expansion for no charge. Otherwise, you'll need to pay $14.99 or 1200 MS Points.
Your Daily Blend of Entertainment News
Staff Writer at CinemaBlend.