Battlefield 4 Double XP Week Announced, Players Will Get Free M1911 Scope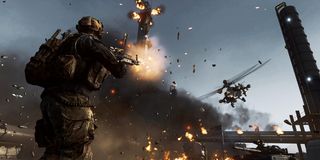 Battlefield 4 debuted on five platforms in the past month. It's been a rough launch, with issues plaguing each version. Today DICE's Karl Magnus Troedsson pledged to fix the launch bugs and will be rewarding fans for their patience.
"I am extremely proud of the people at DICE and everyone across EA that contributed to the development of Battlefield 4," Troedsson said. "However, I am less proud to see that the game has experienced some turbulence during the launch period. While some platforms have had only minor problems, others have had more than their fair share of issues. Resolving the launch issues is our #1 priority. In fact, we are so serious that we have the entire team working to stabilize the game and we will not move on to other projects until we are sure that Battlefield 4 meets – and exceeds – your expectations. It is the right thing to do."
I've been playing the PS4 version and it's been a wild ride. My single-player campaign progress got wiped out a few hours in. To get multiplayer to work for the first few days, I had to sign out of PSN before launching the game and then sign in while I was on the game's main menu. Lately, checking my Battlelog profile crashes the game. Good times!
DICE plans to compensate players with a double XP event. Players will earn twice the usual amount of XP during multiplayer matches from November 28th through December 5th. The double XP will be awarded at the end of the round so don't quit early.
On December 5th, all Battlefield 4 players who log into the multiplayer will receive a special 3X scope for the M1911. This attachment was previously exclusive to the development team at DICE. It'll be awhile before you make use of it, though, because the M1911 itselt takes awhile to unlock. However, there's an Achievement/Trophy for racking up 45 kills so this scope could be a great help on that front.
Added Troedsson: "You are the heart and soul of Battlefield. We thank you for your support in these early days of the launch, and will continue to show our appreciation as time goes on."
New content is on the horizon for Battlefield 4 as well. The Second Assault expansion debuted on the Xbox One version yesterday and should be rolled out to other platforms in the near future. Next month DICE also plans to release the China Rising expansion. Each DLC pack will provide four new maps, a game mode and several new weapons.
Your Daily Blend of Entertainment News
Staff Writer at CinemaBlend.