New Battlefield Video Teases Tomorrow's Major Reveal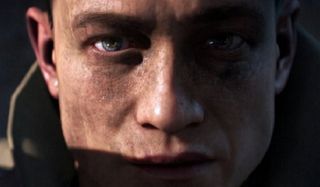 The Battlefield squad is gearing up to drop a bunch of details concerning their next game but, before that can happen, they decided to get in one final teaser to whet FPS fans' appetites. Don't blink or you'll miss it.
I know what you're thinking: "That's it?!" Well, yes. This isn't the actual announcement, after all, and it your reaction matched the one above, then this teaser likely did its job of getting you pumped for tomorrow's real Battlefield reveal. You've got to love that we live in a day and age that even teaser announcements have their own teaser announcements leading into them.
So, what do we have to go on here? With the new Battlefield teaser clocking in at less than 10 seconds, the answer is: Not a lot. We've got a soldier staring into the sky as a massive shadow looms over him. The guy is your average grunt, a white dude with blue eyes and a good "What the hell is that?" face.
That all gets capped off with a splash screen that lets you know all of your questions will be answered tomorrow, May 6, at 4 p.m. ET/9 p.m. BST. There's also a small message explaining that everything you're looking at is from Frostbite game engine footage and not representative of actual gameplay, but I think that pretty much went without saying.
You can't really blame EA for putting together such a carefully orchestrated trip onto the hype train. It was only a few days ago that we found out a bunch of new details concerning Call of Duty: Infinite Warfare, including a flashy new trailer and all sorts of explosive moments.
While most folks who played Battlefield Hardline seemed to enjoy it, it doesn't seem like the game performed quite as well as EA would have liked. In other words, they probably want the series to come back in a big way, hence trying to get folks excited nice and early.
Many are guessing that, like the future-bound Call of Duty series, the next Battlefield will be more akin to Battlefield 2142. That shadow could be an invading ship, maybe? Heck, they could be going completely off the rails for this outing, so maybe that's an alien invader we're getting our fist glimpses of. Still, I've said it before and I'll say it again: The only thing you need to do to get me pumped for the next Battlefield is announce the triumphant return of Bad Company. Those games had a single player campaign that was actually worth diving into courtesy of a fun plot driven by lovable characters. I'd be lying if I said I'm not holding out hope that the shadow we see in this trailer is actually a Truckasaurus Rex.
Staff Writer for CinemaBlend.
Your Daily Blend of Entertainment News
Thank you for signing up to CinemaBlend. You will receive a verification email shortly.
There was a problem. Please refresh the page and try again.