BenHeck's eDimensional AudioFX Pro Supports PS3!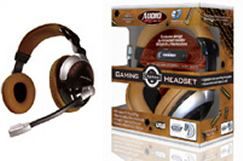 You may have read about BenHeck's latest secret project here on CB Games. If not, then shame on you for cheating and learning about it here. Anyway, eDimensional has recently unveiled the new AudioFX Pro Gaming Headset and you can check out all its features and facts if you read on.
Ben Heckendorn's project was first announced on the MTV show Game One and soon it will be available for purchase at most retail outlets. For those of you wondering what it is and what it does, it's the new AudioFX Pro 5+1 PC Gaming Headset. It provides gamers with state-of-the-art technology that not only dips your noggin in high-quality surround sound, but also provides some startling force-feedback for your face. Well, it's more-so your head that will be rumbled, but your face will feel a lot of the rumbling too. This high-end device also has support for Sony's PS3 – and it comes equipped with microphone features for all your latest needs in on-line gaming.
"We're so excited about releasing the new AudioFX Pro 5+1 and our collaboration with the modding genius, BenHeck," says eDimensional CEO, Michael Epstein. "We're also grateful to the numerous gamers and professional gaming teams that gave us extensive feedback during the development of the new headset. Combining the best audio features with the unique style and engineering expertise of BenHeck, the AudioFX Pro 5+1 represents a leap forward for professional gaming products."
All-righty, time to get to those features. Just drop down below to check out what this AudioFX Pro 5+1 will come equipped with and what it can do. For pre-ordering or purchase information be sure to visit the Official eDimensional Website for further details. The AudioFX Pro 5+1 will retail for $79.95 and will begin shipping to retailers nationwide at the end of June.
AudioFX Pro Features:
• USB 2.0 Plug & Play connection with integrated 5.1 surround sound decoder
• Critically acclaimed force feedback technology with integrated subwoofer for dramatically enhanced situational awareness and increased bass effects
• In-line volume control, vibration control and new instant mic mute button
• New ambidextrous mic swivel with reinforced bearings
• Improved microphone sensitivity and filtering for incredibly clear voice transmission – Teamspeak Certified
• New oval ear cup design for immersive audio, external noise blockage and improved "around the ear" comfort
• New and improved LED level meter design for custom gaming look
• Fully adjustable headband plus new pivoting ear cups
• Included software for full audio position customization, equalization and special effects
• Audio support for the Playstation 3
Your Daily Blend of Entertainment News
Staff Writer at CinemaBlend.