BioShock 2 First Gameplay Footage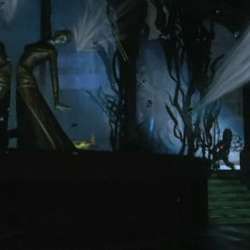 After months of having nothing but a teaser trailer to ogle, we now have some actual BioShock 2 gameplay footage to watch. 2K Games has released a two-minute video demonstrating some of the new features.
As you'll note from the giant drill in the bottom right corner of the screen, you play a Big Daddy in BioShock 2. In the first part of the video, you're chasing the Big Sister, an agile foe who will be a nuisance for you throughout the game. The video then shows us some combat between you and the psychotic splicers that stalk Rapture. You can now use Plasmids and weapons at the same time and do the little shoulder charge that Big Daddies unleashed on you so frequently in the original.
That's enough describin' out of me - check it out for yourself below. BioShock 2 will be released for the PS3, Xbox 360, and PC in late 2009.
Staff Writer at CinemaBlend.
Your Daily Blend of Entertainment News
Thank you for signing up to CinemaBlend. You will receive a verification email shortly.
There was a problem. Please refresh the page and try again.