BioShock 2 Multiplayer Trailer Arrives Thursday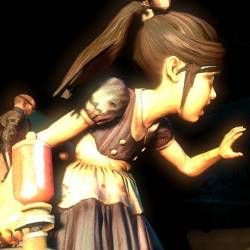 Here's some good news to balance out today's announcement that BioShock 2 won't arrive until 2010: the first multiplayer trailer will debut on Thursday.
2K Games previously stated that BioShock 2's multiplayer is a prequel to the single-player campaigns of both games in the series. You'll earn experience points through matches and use them to unlock new weapons, plasmids, and tonics. We've yet to see the game in action, though.
According to GameTrailers TV host Geoff Keighley's Twitter, "the epic world premiere" of the trailer will take place on this week's episode of GTTV. The show airs on Thursday at 9:30 PST on Spike TV. The same episode is going to feature a debut of a Halo 3: ODST single-player mission as well so should be a good episode for shooter fans.
Ubisoft revealed earlier today that a gameplay trailer for Assassin's Creed 2 will also arrive on Thursday. No mention of it on Keighley's Twitter though so that might not be on GTTV. It'd be the sort of thing I'd brag about if I were hosting the show.
Staff Writer at CinemaBlend.
Your Daily Blend of Entertainment News
Thank you for signing up to CinemaBlend. You will receive a verification email shortly.
There was a problem. Please refresh the page and try again.