BioShock Infinite: Mind In Revolt E-book Free With Amazon Pre-Order Of The Game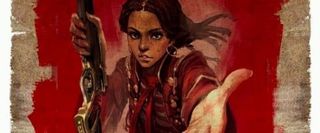 For those of you who can't wait for BioShock Inifinite to hit store shelves in a couple of months, you might want to consider pre-ordering the game through Amazon. Doing so will net you a copy of the upcoming e-book novella, BioShock Infinite: Mind in Revolt a prequel story that should tide you over for those final weeks leading up to the game.
2K Games and Irrational Games today announced that BioShock Infinite: Mind in Revolt will be coming to Kindle devices beginning Feb. 12. While anyone can pick up the digital story for $2.99, those who pre-order Infinite through Amazon will receive a copy free of charge.
According to 2K, Mind in Revolt provides some insight into the world of Columbia, the elitist city in the sky players will be visiting once the game releases. The story has been written by Irrational's own scribe, Joe Fielder, with creative direction from game director Ken Levine.
"Since we first announced BioShock Infinite, our fans have asked for more information about Columbia and the complex cast of characters that inhabit the floating city," said Fielder. "After reading the e-book, players will have a better understanding of BioShock Infinite's world, the struggle between its factions, and the motivations of key characters, like rebel leader Daisy Fitzroy, without spoiling the mysteries of BioShock Infinite."
If you aren't interested in reading about Infinite before the game launches, then perhaps you'll be interested in the other pre-order bonuses being offered for the game. A pre-order will earn you an Industrial Revolution Pack, which grants access to three in-game gear items that boost your combat abilities, an extra 500 in-game currency, five lock picks and the Industrial Revolution puzzle game. Just something to think about before the game finally launches on March 26.
Staff Writer for CinemaBlend.
Your Daily Blend of Entertainment News
Thank you for signing up to CinemaBlend. You will receive a verification email shortly.
There was a problem. Please refresh the page and try again.