BioWare: Mass Effect MMO Is Daunting But Interesting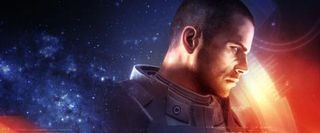 Over the years BioWare has been asked several times about whether or not Mass Effect could become an MMO. In an interview published this weekend, they once again said they were open to the idea.
"Now that we've learned MMOs are really easy to make, and simple to run after the fact, we're on it!" joked BioWare co-founder Greg Zeschuk while chatting with Penny Arcade Report. "The interesting thing, the implication of a Mass Effect MMO has so many expectations. We already bit off a big thing to chew with a Star Wars MMO, and that's not so small."
Added Zeschuk: "It's daunting, but the neat thing is it would lend itself to a different type of game play. It's fun to think about. I imagine people think it would be just like Mass Effect as it is… but there's lots of people there. It's really interesting, I don't know. It's a tough one."
BioWare has always been flirty when asked about an Mass Effect MMO. This past fall, Zeschuk said that they would take a "fresh look at the market" after Star Wars: The Old Republic was completed. ME producer Casey Hudson said last April that an MMO would "make sense" for the series.
"Part of what you're trying to do is save the universe so you can live in it. That's part of the promise, I think, for any great IP. It has to be a world worth saving," Hudson said at the time.
While I appreciate BioWare providing us with room to speculate, I have strong doubts that we'll see a Mass Effect MMO. Even if we did, it'd take awhile to come to market. BioWare just launched Old Republic back in December and after sinking so much time and money into that project, I doubt they're eager to make World of ShepardCraft.
Regardless of whether or not Mass Effect goes massively multiplayer, the series' future looks bright. Mass Effect 3 will launch next week and complete the current story arc. BioWare says that there's plenty of potential for additional games after that. For example, they may make prequels.
Your Daily Blend of Entertainment News
Staff Writer at CinemaBlend.
Your Daily Blend of Entertainment News
Thank you for signing up to CinemaBlend. You will receive a verification email shortly.
There was a problem. Please refresh the page and try again.