Borderlands 2 Doomsday Trailer Song Revealed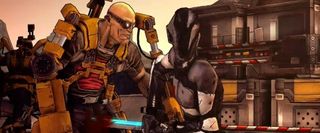 Curious about that dubstep techno song used in the Borderlands 2: Doomsday trailer? Well, if you're not keen on getting answers from Yahoo! Answers then you definitely came to the right place to get your answer.
Gearbox Software's first gameplay reveal for Borderlands 2 came blasting onto the scene last week on this very same day and it set the FPS community on fire with that burning desire to quest, loot and shoot things...a lot of things.
Anyways, one thing of note was the awesome dubstep song used in the trailer. Well, it's by none other than infamous dubstep artist Nero, probably a direct rival to that other dubstep guy known as Skillrex. Anyways, the trailer not only made waves because of how awesome it was but it also made waves because Gearbox just excreted all kinds of awesome info about the game as well, including a concrete release date for Borderlands 2.
The game itself is purported to contain a bagazillion more guns than the first game and more "Wub, Wub" than any shooter before it. That alone should make this a day-one buy.
You can check out Nero's Doomsday song in the Doomsday trailer for Borderlands 2. The game is set for release on September 18th in North America and September 21st internationally. For more info feel free to visit the Official Borderlands 2 Website. You can also pick up the HD version of the song Doomsday by Nero over at the iTunes Webstore (opens in new tab).
Staff Writer at CinemaBlend.
Your Daily Blend of Entertainment News
Thank you for signing up to CinemaBlend. You will receive a verification email shortly.
There was a problem. Please refresh the page and try again.