Borderlands Games Now Drop A Lot More Rare Loot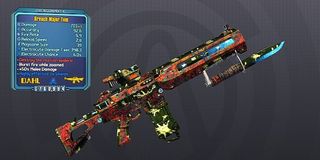 Gearbox want you to have as much fun as possible while shooting things in the various Borderlands games. To prove that, the developer has implemented a handful of hot fixes that make legendary gear drops occur on a more regular basis for several of their games.
The quest for better loot is never-ending. Whether you're on the lookout for shiny new armor or a particularly powerful weapon, it can be difficult to slow down your grind when you know there's a better piece of equipment just over the horizon.
The team at Gearbox understands your hording woes and has decided to offer some relief, bringing that distant horizon we were just talking about a little bit closer. According to a recent post on the developer's blog, minor patches have been activated for Borderlands 2, Borderlands: The Pre-Sequel and Borderlands: The Handsome Collection to increase legendary drop rates for each game. These patches are now live across all platforms, so all you need to do is boot up your copy and get to grinding.
To prepare for this shift in drop rates, Gearbox actually held some limited experiments to gather data and feedback concerning the acquisition of legendary gear within the Borderland games.
"After analyzing thousands of hours of your gameplay and feedback survey data, we've decided to add a permanent 3x drop rate increase to both games," reads the announcement.
That's quite a hefty shift and should help speed up the process of getting sweet gear by a sound margin. These hot fixes will apparently be plugged into the games permanently through future update.
The announcement goes on to explain that the testing phase for the new drop rates actually lasted over a month.
"For those five weeks, community members tested out the drop rates and let us know what they thought via the forums and feedback surveys," reads the announcement. "After digging through the data, we discovered that standard drop rates were perceived as too rare, but that anything over a 3x boost felt like too much—almost to the point where it was starting to take away the challenge and excitement from seeing that beautiful orange glow."
Personally, I feel like Gearbox should be applauded for these efforts. A healthy grind is fine, but you never want to leave your players feeling like they are getting too little of a reward for the hours they are pouring into a game.
Up until recently, Destiny faced a similar problem with much of its best content. Exotic weapon and bounty drop rates were super rare, leaving many players to horde various currencies in the hopes of something spiffy popping up during one of the weekend Xur events. Now that the House of Wolves has launched, the Prison of Elders gives players a fresh way to claim the best guns in the game, as well as a more reliable supply of various resources and engrams to round out their arsenal.
Staff Writer for CinemaBlend.