Bulletstorm Delisted From Steam; GFWL Shutdown Is Prime Suspect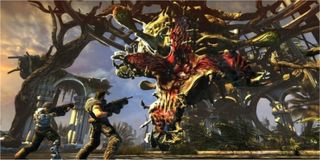 Electronic Arts, Epic Games and People Can Fly's Bulletstorm has been delisted from Steam. This happened a few days ago and was originally reported by Slash Gear. But the heat continues to pick up as answers have yet to come in for the questions the gaming media have been throwing out.
Firstly, it was noted that Bulletstorm – the wild and loud first-person shooter that played up its juvenile humor with over-the-top action – had been removed from Steam. The game wasn't a huge mover or shaker at the time of its release, but no one expected that the game would be delisted without warning.
Blues News took note that Joystiq has been doing some poking around, you know, asking questions... trying to plumb through the fat of the publisher's belly; flicking through the pages of curiosity; licking the stamps and sending off the letters of journalistic integrity. Well, it turns out they couldn't get the bee to buzz around the honey, even when they came with a box of Cheerios.
As noted on Joystiq...
This is true about Games For Windows Live not being confirmed for discontinuation. Microsoft has made no official statements on the matter and retracted their previous announcement about the service discontinuing starting on July 1st of this year.
The announcement was originally in attachment with the shutting down of Age of Empires Online, and was done in correlation with Microsoft shutting down the Games For Windows Marketplace.
While a lot of people don't mind that the Marketplace has gone kaput, there has been a lot of talk surrounding the outcome of games attached to the GFWL DRM servers, where once they shutdown there won't be a way to send or receive online authentication for games that require the input of a keycode before playing certain features (or being able to save your game).
Nevertheless, Hardcore Gamer has reported that Bulletstorm is still available on EA's own digital distribution portal, Origin, and while it still requires GFWL to operate, it's still functional and available for purchase at the time of the publishing of this article.
As for those of you who bought the game on Steam, take note that while Bulletstorm has been delisted (even though it shows a listing of the free demo that you can't click on, as evidenced in the image above) you can still install and play Bulletstorm even though it's no longer on Steam. Incidents like this really call into question whether or not other publishers will step in and step up to the plate to secure and provide an alternative for their games once GFWL ceases to function. Dark Souls, several Capcom titles and quite a few others all kind of hang in the balance.
Staff Writer at CinemaBlend.
Your Daily Blend of Entertainment News
Thank you for signing up to CinemaBlend. You will receive a verification email shortly.
There was a problem. Please refresh the page and try again.