Call Of Duty: Advanced Warfare Could Sell Millions Less Than COD: Ghosts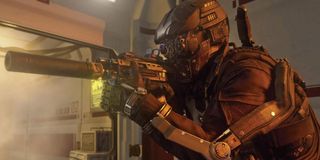 2014 could be another down year for Call of Duty. Research firm Sterne Agee is projecting Call of Duty: Advanced Warfare to sell millions of copies less than 2013 release Call of Duty: Ghosts.
Sterne Agee analyst Arvind Bhatia said this week that they expect Call of Duty: Advanced Warfare to ship 15% fewer copies than Ghosts in the fourth quarter of the year. That means that they're expecting 17 million shipped instead of 20 million.
Bhatia cites a few reasons for this pessimism:
Gamers might be skeptical of Advanced Warfare because they were disappointed by Ghosts. This may lead them not to purchase Advanced Warfare unless word-of-mouth or reviews are strong.
PS3 and Xbox 360 software sales are down 50% and 46% this year, respectively. This doesn't bode well for a mass-market, cross-gen title like AW.
Many consumers are still considering whether to upgrade to PS4 or Xbox One. They're not going to buy the game until they decide on a platform.
These factors have resulted in lower pre-orders for Call of Duty: Advanced Warfare compared to Ghosts. That's a good indication that the game won't sell as well, at least at launch.
However, Bhatia admits that there's a chance Advanced Warfare could beat the odds. He points out that pre-release buzz has been very positive. This enthusiasm could result in better review scores than Ghosts.
That's a fair point. A lot of the gamer fatigue with Call of Duty stems from how similar each new game is to the last. The exoskeletons and other futuristic technology available to players, however, make Advanced Warfare look noticeably different than its predecessors. Everyone seems a bit less weary with this game than Ghosts.
Sterne Agee says that the lack of direct competition for Advanced Warfare may help the game as well. More specifically, there's no Battlefield launching this fall thanks to the Hardline delay. I wouldn't say there's a lack of "direct competition" - Halo: The Master Chief Collection and Destiny could siphon off some potential sales from shooter fans - but the absence of COD's biggest rival will help.
If Call of Duty: Advanced Warfare sells less than Ghosts, that would be the second year in a row that COD has declined in sales. Activision attributed Ghosts' underperformance to the console transition. We'll have to see whether sales rebound once a majority of console players have switched over to PS4 or Xbox One.
In spite of Call of Duty's recent decline, Sterne Agee is optimistic about Activision in the long run. They point out that the company's software is becoming more diverse thanks to Destiny, Hearthstone and Heroes of the Storm. The launch of Call of Duty Online and Diablo 3 in China could be a long-term boost for the company as well.
"Our point is that Activision, which was primarily known for Call of Duty and World of Warcraft in the past, now has a much stronger and diversified portfolio and has a presence on more platforms (iOS and Android) than ever before."
Not everyone is so optimistic about Activision's long-term prospects. Benchmark recently argued that Activision should buy Take-Two in order to add franchises like GTA and Borderlands to their portfolio.
Your Daily Blend of Entertainment News
Staff Writer at CinemaBlend.