Call Of Duty: Advanced Warfare Developer Complains About Awards Snub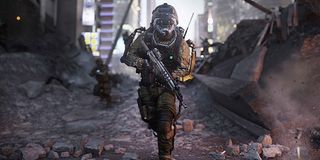 We can't all be winners. Sometimes we don't come out on top, even if we feel like we've earned it. In those instances, it's usually best to give a quick nod, turn your eyes toward the future and keep pushing ahead. Or, you could be like one of the execs behind the most recent Call of Duty and complain about it on Twitter.
What initially brought this little item to our attention is how outside the norm it is. As stated above, folks usually lose gracefully when it comes to voicing opinions on social media. If someone doesn't get an award and feels like tweeting about it, it's usually a message of congratulations to the winner or something along the lines of "we'll get 'em next time!"
Sledgehammer general manager and co-founder Glen Schofield, however, took a different route on Twitter when the studio's most recent game, Call of Duty: Advanced Warfare didn't bring home hardware from the recent D.I.C.E. Awards.
"Snubbed by DICE," reads the tweet. "I do have to say it hurts. Really does."
Nothing too bombastic here, but a bit surprising to see, nonetheless. Not faulting the guys for speaking his mind, but saying your game was "snubbed" for an award is the equivalent of saying "our game was better than the other ones in the category." Even if you believe that's the case, again, there's usually more graceful way to express your disappointment and move on with life. Saying something was snubbed is usually reserved for the realm of the consumers and observers. When you have a horse in the race, it can come off sounding a bit childish.
To his credit, Schofield responds a couple days later saying that he's "had time to think. Yes we are deserving to win but so are other games." He further adds that "just being there was winning." Now see, that's how you should have maybe approached the situation in the first place.
In total, Call of Duty: Advanced Warfare was nominated for five awards, including Achievement in Character, Achievement in Sound Design, Technical Achievement, Action Game of the Year and Achievement in Online Gameplay. Given the timing of Schofield's tweet, we're guessing that he was referencing the fact that Advanced Warfare didn't win in any of its categories, rather than speaking to one category in particular. Of all of those, I would have put my money on Achievement in Character, considering how well received Kevin Spacey was in pretty much every review. Then again, there were some other fantastic performances this year, so CoD losing in that particular category isn't all that surprising.
To be fair, any game that wasn't Middle-earth: Shadow of Mordor was in the same position, as that game practically swept this year's D.I.C.E. show.
Your Daily Blend of Entertainment News
Staff Writer for CinemaBlend.