Call Of Duty: Advanced Warfare Ranked Play Season 1 Starts This Week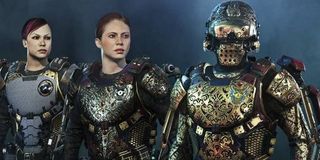 Call of Duty: Advanced Warfare's eSports mode Ranked Play is about to begin. This weekend Sledgehammer Games shared details on how Season 1 of Ranked Play will work.
Season 1 of Ranked Play will run from January 9th until January 31st. In Ranked Play, players compete in 4v4 matches of Search and Destroy, Capture the Flag, Uplink and Hardpoint. They'll be matched up against opponents of comparable skills. Competitors will earn points to advance to a higher division by winning matches. Losing or forfeiting matches will cause them to lose points.
"Ranked Play features seven divisions: Bronze, Silver, Gold, Platinum, Diamond, Masters, and once players are in Masters, the top 100 players by division points will be counted as Grand Masters," Sledgehammer Games said on their official blog. "Our team has created exclusive Divisional Gear for each Division Ranking that will be awarded at the end of each season for use throughout the next season in Ranked Play, Multiplayer, and Exo-Survival. To rise up in the ranks of each Division, players need to reach a total of 100 division points, and then a Division Promotion Challenge (best of three matches). Matchmaking takes into account if players are predicted to win or lose against opponents, and players will receive between 15 to 25 division points for a victory and lose 10 to 20 points for a defeat."
Sledgehammer also shared an image of the different gear you'll earn from each division. The Bronze equipment's really simple while the Grand Masters outfit makes players look like a cross between a space marine and an oriental rug:
All of the Ranked Play matches will operate under eSports settings. These rules include forced respawns, friendly fire, and no penalties for suicide or friendly kills. Certain equipment and exoskeleton loadouts are also restricted. This image from Sledgehammer gives a run-down of all of the rules you can expect in these matches:
Sledgehammer has been updating the unranked side of multiplayer in the past few weeks as well. Players can now earn randomized rewards including an exclusive set of gear through supply drop daily challenges. Snipers can test their skills in a MORS-only One Shot Mode.
Before they launch the new season, I do hope they fix that blackscoping issue though. It's allowing some snipers to wreak havoc in multiplayer.
Staff Writer at CinemaBlend.
Your Daily Blend of Entertainment News
Thank you for signing up to CinemaBlend. You will receive a verification email shortly.
There was a problem. Please refresh the page and try again.