Call Of Duty: Black Ops 2 Free On Steam, Double XP Weekend Begins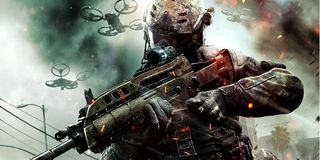 Call of Duty: Black Ops 2's multiplayer will award double the usual amount of XP this weekend, Treyarch announced today. If you don't own the game, you can still enjoy the double XP.
Black Ops 2 is currently free-to-play through Steam. To play online after 1PM on Sunday or to access the single-player campaign, you'll need to purchase the full game. Steam is encouraging players to buy the game by offering a $20 discount until May 13th. There's no discount on the Revolution DLC, though.
According to Treyarch's Twitter account, the double XP will kick off at 10am PDT. The increased gains will be available on Xbox 360, PS3, PC and Wii U. The double XP event will then conclude at 10am PDT, around the same time that the Steam discount ends.
Call of Duty: Black Ops 2 is set in the near future. China and the United States are on the brink of war. A terrorist named Raul Menendez is manipulating the two powers into conflict while also planning his own global takeover. In the campaign, players will bounce back and forth between the Cold War era and the near-future. The multiplayer, meanwhile, allows players to battle it out with all sorts of futuristic gadgets including drones and microwave guns.
To find out more about Black Ops 2 and whether it's worth downloading for the free play weekend, check out our review.
Your Daily Blend of Entertainment News
Staff Writer at CinemaBlend.
Your Daily Blend of Entertainment News
Thank you for signing up to CinemaBlend. You will receive a verification email shortly.
There was a problem. Please refresh the page and try again.