Call Of Duty: Black Ops 2 Nuketown Zombies Map Hits PS3, PC Today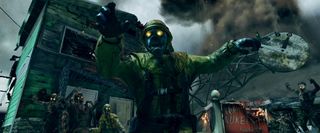 Today PC and PS3 owners have new Call of Duty: Black Ops 2 coming their way today. Treyarch will be releasing the Nuketown Zombies map on both platforms today for Season Pass holders as promised.
Nuketown Zombies, released on Xbox 360 in December, is based on the competitive multiplayer map Nuketown from the first Black Ops. After the mock suburbs in that map were destroyed by a nuclear blast, a group of scientists find that zombies have overrun the ruins. These scientists are attacked and infected by the zombies. Afterwards, the government sends in CIA and CDC agents - the players - to mop up the mess.
Like all zombie co-op maps, Nuketown Zombies is all about survival. Endless waves of zombies will spawn and everyone must work together to fend them off. Using money earned from their exploits, players can buy new weapons and power-ups to help their desperate defense.
The Nuketown Zombies map is the first piece of DLC included in the $50 Season Pass. The Season Pass will also give players access to four multiplayer map packs arriving this year. While these map packs will be available for individual purchase, Nuketown Zombies will only be released for gamers with a Season Pass or special edition of the game.
The next DLC coming to Black Ops 2 is the Revolution Map Pack. Revolution is loaded with five maps and a new game mode. It will debut on Xbox 360 on January 29th.
Staff Writer at CinemaBlend.
Your Daily Blend of Entertainment News
Thank you for signing up to CinemaBlend. You will receive a verification email shortly.
There was a problem. Please refresh the page and try again.