Call Of Duty: Modern Warfare 2 Sweepstakes Offers 2,600 Free Prizes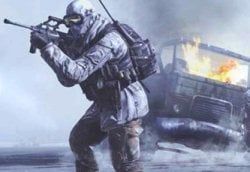 Want to win some freaking cool gear? I'm not talking about a cassette player or heart monitor either. Think big, really big. If you guessed a Ducati motorcycle, Hummer H2 or a Polaris Snowmobile then you're thinking on the right page. GameStop announced today that they've partnered with Activision on the upcoming release of Call of Duty: Modern Warfare 2 and more than 2,600 prizes are to be won.
Part of a pre-order program for the upcoming first-person shooter sequel to the 2007, award-winning Call of Duty 4: Modern Warfare, the Surprize Attack sweepstakes only requires that gamers place a pre-order for Modern Warfare 2 and use the coupon code or purchase confirmation number for a chance to redeem awesome prizes and swag.
According to the press release…
A list of some of the items worth winning are below. You can learn more about the sweepstakes and rules by visiting the Official Surprize Attack Website. For more gaming news, updates, info and media, be sure to stay tuned in with Blend Games.
Notable Prizes Include:
• Tricked-out Hummer H2
• Ducati Hypermotard 1100 motorcycle
• Zodiac inflatable boat
• 100,000 rubles (approximately $3,300 USD)
• Polaris snowmobile
• Night vision goggles
• Laser range finders
• Smart phones
• Autographed artwork
• Binoculars
• Exclusive Call of Duty: Modern Warfare 2 branded wearables
Your Daily Blend of Entertainment News
Staff Writer at CinemaBlend.